---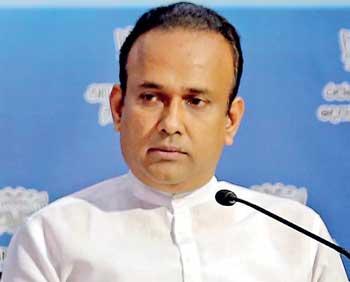 By Sandun A. Jayasekera
While admitting that there was a delay in the distribution of fertilizer, in particular in the remote areas, cabinet spokesman and Plantation Industries and Agricultural Exports Minister Ramesh Pathirana said fertilizer would be distributed islandwide in the next few days.

"The yahapalana government had failed to foot the bill for fertilizer purchased from the two Fertilizer Companies, Lanka Pohora and Colombo Commercial Company and there was an outstanding payment of Rs. 3 billion to the two companies. As a result, the fertilizer companies had problems to release fertilizer to the government and the distribution of fertilizer was in total disarray," Minister Pathirana pointed out.

The government has settled the outstanding and now there is no impediment to the distribution of fertilizer in any part of the country. Paddy farmers and vegetables and fruit growers will not have a problem from here onward to purchase Urea and Triple Phosphate in any part of the country, he stressed.

Minister Pathirana said the government has also decided that a methodology should have to be prepared for encouraging the farmers to utilize organic fertilizer with higher standards. A cabinet sub-committee has been appointed to prepare a methodology and submit appropriate recommendations in this regard.
The Committee points out that it is required to publish the necessary standards for organic liquid fertilizer and bio-fertilizer since Sri Lanka Standards Institute has already declared the precise standards for organic fertilizer, he said

Approximately 250 organic fertilizer manufacturers are in operation islandwide by now whereas 36 out of them have been issued the certificates of standard for preparation and implementation of a pilot project for either annihilation or proportionate removal of chemical fertilizer in replacement of environmentally friendly fertilizer for paddy and other crops in several selected areas with the objective of encouraging the farmers to use this type of fertilizer for the four agricultural seasons within the areas this pilot project is being implemented.
The yahapalana government had failed to foot the bill for fertilizer purchased from the two Fertilizer Companies, Lanka Pohora and Colombo Commercial Company