---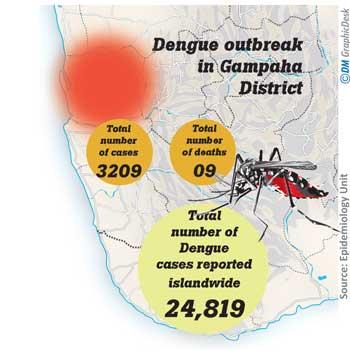 By L.W. Ariyaratne
Dengue has raised its ugly head in several areas in the Gampaha District where 3700 Dengue cases had been reported with the death toll increasing to nine.

Epidemiologist of the District Health Services Office Dr. Krishantha Samaraweera said the number of cases showed a significant increase when compared to last year. He said only nine patients had died last year but it had increased by 100 per cent this year. He pointed out that Biyagama, Katana, Negombo, Kelaniya, Mahara, Wattala and Jaela health divisions were the high risk areas.

He stressed the need to take precautions by cleaning home gardens, school yards, commercial and industrial premises. He pointed out that the back of the refrigerator should be kept clean regularly by their owners in order to prevent Dengue mosquitoes from turning it into breeding grounds.