---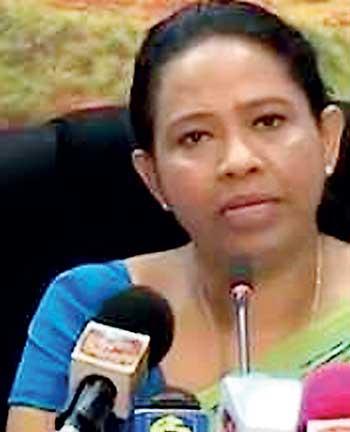 By Sandun A Jayasekera
One of the main reasons for drug shortage was the failure of the Health Ministry to settle bills for drug purchases during the previous administration and she would submit a Cabinet memo today seeking approval for Rs. 40 billion to settle the outstanding bills of drug suppliers, Health Minister Pavithra Wanniarachchi said.

She also said a Committee of Inquiry would be appointed next week to look into the corruption, misappropriation and waste allegedly took place at the Health Ministry under the 'yahapalana' rule. Addressing the media at the Kalawana Base Hospital after she paid an inspection tour to the hospital yesterday, Minister Wanniarachchi went onto say that when she took office, the Health Ministry had an outstanding of Rs. 50 billion for drug companies.

"The Apeksha Hospital at Maharagama or the National Cancer Institute, the country's main cancer hospital was worse affected due to drug shortage. There was a huge public outcry and media exposure on the sufferings of cancer patients as a result of non availability of life saving drugs of cancer patients, Minister Wanniarachchi noted. However, she was able to obtain Rs. 10 billion from the treasury to purchase drugs in December but still there is an outstanding of Rs. 40 billion and drug importers were reluctant to extend further credit to the Health Ministry, she added. "I believe the current drug shortage will come to an end in a fortnight after we paid back the defaulted payments to drug companies," Minister Wanniarachchi said.