---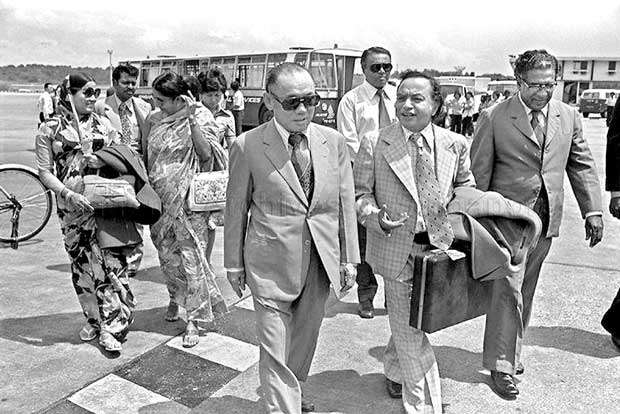 Sri Lankan Foreign Affairs Minister A. C. S. Hameed (second right) and wife (extreme left) arrive at the Singapore airport. They were greeted by Senior Minister of State for Foreign Affairs Lee Khoon Choy (third right).

Minister Dr. A.C.S. Hameed, the first Foreign Minister of Sri Lanka was born on a day like today in 1928.(10/04/1928)

He studied at St. Anthony's College, Katugastota, Vijaya College and Zahira College in Matale.

He entered into UNP politics in 1956. He was elected to Parliament in 1960 General Election. He became the Member of Parliament in 1960 General Election. He won seven General elections consecutively and was an undefeated character until his demise in 1999. In 1977 General election, he was appointed as the Minister of Foreign Affairs.

Once he was referred "Sinhala Hameed" as he was elected by the people of Harispattuwa Constituency, with the support of majority of Sinhala Buddhists. During election periods he used to go to each and every village to meet his voters. On one such occasion he met an old woman during a visit. He stopped his walking and asked this old woman "Aachchi, to whom are you going to give your vote this time? She could not make him out at once due to her weak eyesight. Immediately she replied, to whom else except that Thambi. Then Hameed said Aachchi, I am that Thambi." This illustrates how Sinhalese people treated him without thinking twice about his race or religion. Always he was with them. During his period most of the people who got employment were Sinhalese people.

He was a prominent figure in J.R.'s government and held the portfolio of Foreign Affairs 12 years consecutively and after serving in different portfolios he was offered the Foreign Minister post for a few years under President D.B. Wijetunga. He held the portfolios of Justice and Higher Education Ministries under the Premadasa Administration. He served the people of Harispattuwa ignoring racial differences and helped the temples of the area in various ways.
He was also given much prominence in the media. He was also pleased when cartoons about him appeared in newspapers. He even had get-togethers with a number of cartoonists.

When the Buddhist Monks come to meet him in the Ministry of Foreign Afffairs, Colombo he never forgot to give transport to them to go to the Pettah Bus Stand. I had arranged transport for them on numerous occasions on the instructions of Dr. Hameed . He was a genuine gentleman in all respects.

During his tenure of service, he settled many disputes which other mediators could not do properly. Doctors' Strikes and University students' unrest are among them. Once he mediated the dispute which the Sinhalese and Muslims had in Galle and settled it without any problem. He also settled the incident of hijacking of the Al-Italiya flight by Sepala Ekanayake.

During his period as the Minister of Foreign Affairs, many job opportunities were provided to Sri Lankans in Middle-Eastern countries and many Sri Lanka Embassies were established in various countries, specially in the Middle-East region.

He was also given much prominence in the media. He was also pleased when cartoons about him appeared in newspapers. He even had get-togethers with a number of cartoonists. Though he had a busy schedule, he has published several books authored by him. He has been awarded Doctorates by the University of Korea and the University of Sri Jayawardenapura.

According to my view, he was the most successful Foreign Minister appointed to the Ministry of Foreign Affairs so far.

He is a most sought after character in the present context to bring racial harmony in Sri Lanka today. During the LTTE period, he went to Jaffna, for negotiations with LTTE leader Prabakaran.

This is a tribute to his yeomen service rendered to Sri Lanka during his tenure of service.