---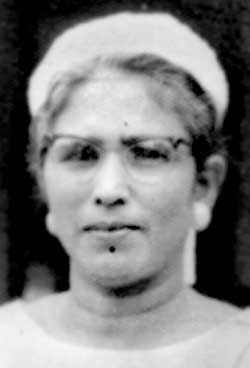 It is with great sadness that I write this tribute to you. When we lose a loved one, we have to endure pain, grief, desolation and emptiness, in fact, a loss of a mother is irreparable and devastating, no matter how young or old the children are and remembering our mama who was always loving and devoted, understanding and affectionate.
Indeed, she lavished her love and care with material resources to keep the family happy and for the advancement of her children. Her guidance, advice, concern and her untiring efforts helped her children to come up in life.
Mama devoted her time skill, patience and love with generosity and magnanimity and we being her children wanted to honour her love, maternal affection, care and patience she gave us ungrudgingly.
Mummy had amazing powers and her forte was that she could face any problems without making any complaints. She cared for all of us without any demands.
Being benevolent and sweet by nature mama soon found her place in the hearts of everyone. "Love and forgive, live and let live" was her motto. In fact religion played a very great role in her life. Born to a devout Catholic family her faith was strong and whatever she did her promise to God came first. In Mother Mary Immaculate and Saint Anthony she had strong faith which helped her till the very end. She died on November 30,1995, clinging onto the Blessed Rosary at my sister's place in Kapuwatte, Ja-ela.
Indeed, the loss of our mother is painful and tearful. "A light from the family is gone, a voice we loved stilled, a place is vacant in our home which can never be replaced".
"She saw the road was getting, rough, so she closed her weary eyelids and whispered "peace be thine", it broke our hearts to lose her, but she didn't go alone, a part of us went with her, The day God called her home.
May I say, "Goodnight, sweet queen and may the flights of Angels sing thee to thy rest" Malcolm Godwin Pollocks