---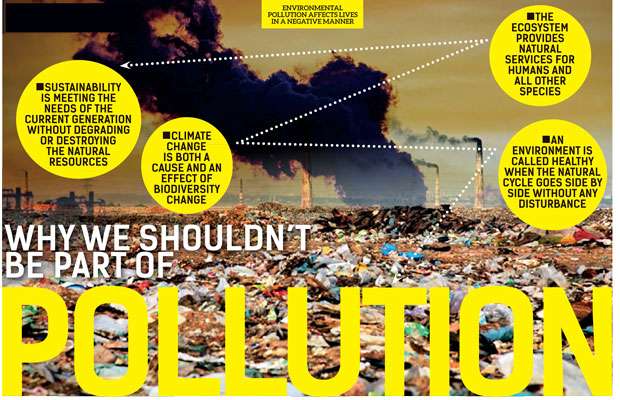 Environment or an ecosystem is the natural surrounding where living (plants, animals, micro-organisms, and humans) and non-living (soil, water, air, and nutrients) components coexist. A healthy ecosystem comprises all the chemical elements and nutrients circulating in a cycle while supporting millions of species. The countless number of species in ecosystems contribute towards the process of cycling elements by producing food, living their lives, and even paying through their deaths. In this process a variety of goods and services are produced that are beneficial for humans. As the natural environment plays an important role in the existence of human beings, animals, plants and other activities on earth, humanity's entire life support system depends on the well-being of all the species living on earth. Besides food, ecosystems provide 'provisioning services,' for people to derive nearly all their material needs. The most important are: water, medicines, clothing, wood, biofuels, and fossil fuels.
Industrial farming has resulted in high crop yields, but the excessive use of chemicals as fertilizers and pesticides have decreased the nutritional value of crops

Forests play an important role in regulating air and climate services. Trees regulate and maintain the carbon cycle by producing oxygen and reducing the concentration of carbon dioxide in the air, and also remove pollutants from the air. The shade cast by trees moderates temperatures, and makes warm places cooler. The environment is also a source of natural beauty and people enjoy nature for recreation and sports as well. Nature is considered necessary for proper physical and mental health.

All goods and services used by humanity come directly or indirectly from the environment. Biodiversity provides a large number of goods and services that sustains all lives on earth. Biodiversity change causes economic losses by affecting the flow and processes of ecosystem services such as: natural cycling of elements, soil fertility, water purification, pest and disease cycles, drought and flood resistance of an area, and etc., and also hinders the benefits people get from ecosystems. Climate change is both a cause and an effect of biodiversity change,therefore consequences of biodiversity loss or climate change cannot be measured, because estimating the value of climate-related biodiversity change is a challenge; but undisturbed natural ecosystems can moderate severe disasters and limit their damages and prevent destruction of habitats.
Threats of environmental degradation
The deterioration of environment is often referred to as environmental degradation. This also occurs when resources are over-exploited and lead to a disruption in normal functioning in an area, which in turn threatens the natural resources such as clean water, fossil fuels, and food supply.

Besides the natural environment a man-made environment also exists which deals with the technology, work environment, aesthetics, transportation, housing, utilities, urbanization, development, etc. In an era when technologically advanced living standards of human beings are desired, the man-made environment affects the natural environment to a great extent by means of air pollution, noise pollution, deforestation, water pollution, soil pollution, acid rain and other disasters created by humans. The components of the natural environment that are used as resources are exploited by human beings in order to fulfill some basic physical needs and purposes of life. As a result, environmental pollution affects lives in a negative manner - socially, physically, economically, emotionally and intellectually.

This technological advancement is spoiling the environment and disturbing the equilibrium of nature. Industrial farming has resulted in high crop yields, but the excessive use of chemicals as fertilizers and pesticides have decreased the nutritional value of crops and have also distraught the natural processes of the environment. Cutting of trees and clearing of forest increase global warming.
Environmental damage is also caused due to mining of raw materials, logging for wood and the manufacturing process.

People like plastic material because they are inexpensive and handy to use; but the fact of the matter is that plastic can destroy our natural environment. Non-biodegradable products like plastic are slow to decompose and can remain in environment for centuries often emitting gases that could be harmful to the environment. This could cause pollutants run into rivers and seep into ground water, floods caused by garbage clogging drains, and the atmosphere can be poisoned by the toxic discharge from trash.

Global warming caused by climate change can result in a rise in sea levels, which leads to submerging coastal land, and thereby reducing and harming coastal habitats. This will decrease biodiversity, increase extreme weather events, ocean acidification and bleaching of coral reefs and affect the food chain and the ecosystems.

A clean environment is indispensable to live a healthy and peaceful life. An environment is called healthy when the natural cycle goes side by side without any disturbance. Therefore, any type of disturbance in the nature's balance affects the environment totally which ruins the human lives.
Why it is important to take care of the Environment?
The ecosystem provides natural services for humans and all other species; these services are essential to our health, quality of life, and survival. Environmental goals such as clean water, healthy air, and preservation of biodiversity provide economic, social and environmental benefits for a country by providing natural services and improving quality of life, boosting tourism industry, providing clean water for people, animals, plants and recreation purposes, and prevalence of circulatory and respiratory diseases.
The contribution of ESCAMP towards environmental conservation
The Ecosystem Conservation and Management Project (ESCAMP) in Sri Lanka implemented by the Forest Department and the Department of Wildlife Conservation aim towards achieving the above environmental goals through its involvement for the benefit of the whole country. The below components of the project highlights how ESCAMP plans to preserve ecosystems and natural habitats in Sri Lanka: -

(i) The project plans to develop strategic conservation landscape plans for two landscapes, to secure the integrity of ecosystems and viable populations of species, to identify high conservation value forests, and to recognize overlapping cultural, social and governance landscapes within biologically defined areas. This would enhance green infrastructure by developing regulation and guidelines for conservation landscapes, protect sustainability of sensitive ecosystems, encourage ecosystem restoration and conservation planning, identify and value ecosystem services, consider habitat needs of flagship species, and biodiversity considerations.

(ii) Sustainable use of natural resources for livelihood enhancement would minimize the buffer zone communities' dependency and impact on natural resources. This includes community forest management plans, capacity building activities to promote sustainable use of natural resources, sustainable land use management, water conservation, and biodiversity-friendly, climate smart, and high market potential income generating activities such as home garden development programs.
Global warming caused by climate change can result in a rise in sea levels, which leads to submerging coastal land, and thereby reducing and harming coastal habitats

(iii) Promote Human Elephant Coexistence in view of mitigating the Human Elephant Conflict (HEC), by incorporating new mechanisms to turn wild elephants from economic liabilities and the foes of local farmers to wild, living, communal and economic assets. The project would explore opportunities for reducing HEC by managing elephant populations according to natural ecosystem boundaries allowing the elephants to continue ranging outside protected areas based on using on-going shifting agriculture outside protected areas to create optimal habitat for elephants and providing benefits to farmers through elephant conservation. The project will provide incentives for regulating and managing the seasonal agricultural practices in Managed Elephant Ranges to minimize conflict and optimize habitat quality. Apart from the above Human-Elephant Co-existence models will also be implemented to manage Human-elephant conflict.

(iv) Protected Area (PA) conservation and management will finance the updating and developing of PA management plans covering terrestrial, marine and wetland ecosystems with high biodiversity significance, and threatened ecosystems. The activities under this component include rehabilitation and development of water resources within PAs for wildlife, habitat management, control of invasive species, habitat creation and habitat enrichment, improvement of national park infrastructure for better management of forest and wildlife resources, species monitoring and recovery programs, wildlife rehabilitation sites related activities, protection of inviolate areas for species conservation, and strengthening enforcement through introduction of SMART patrolling.

(v) Promoting Nature-based Tourism in Protected Areas where one can find natural beauty and rich biodiversity. ESCAMP intends to cater to travelers with more interest in the natural environment; and to generate higher economic benefits especially to the communities living adjacent to the Protect Areas (PAs) through sustainable tourism development.

(vi) The project plans to upgrade and strengthen institutional capacity and investment capability of the Department of Wildlife Conservation and the Forest Department by providing specialized human resources in wildlife, forestry and environmental management for long-term sustainability of Protected Area management, biodiversity conservation, and environmental management. The above activities are complimented through skills development of communities, Protected Area restoration, Protected Area conservation and management, Human-Elephant Co-existence, and through promoting nature based tourism.
Why living a sustainable life is needed?
Sustainability is meeting the needs of the current generation without degrading or destroying the natural resources(e.g. water, soil, biodiversity, oil, minerals) and natural services (e.g. flood control, air purification, pollination) that are also needed for future generations.

Sri Lanka is mainly based on natural resources and natural services; as such sustainability and environmental protection go hand in hand. Therefore, to be truly sustainable, we need to address sustainability at the environmental, economic and societal levels. We can save our environment easily with little steps taken by every person on the earth, such as by preventing pollution, reducing the amount of waste, disposing wastes properly, stop using plastic, repair and reuse things instead of throwing things away, reduce water wastage, energy conservation, etc. Savings natural resources through recycling ensures sustainable use of limited resources, because recycling helps the environment through the reduction in any phase of a product's life. Recycling and re-using reduces pollutions by reducing manufacture of fresh materials, littering and landfills, and avoiding incineration.
World Environment Day
World Environment Day is a campaign being celebrated for years every year on 5th of June in order to spread public awareness all over the world towards the safety and cleanliness of the environment. 2018's host country is India and the theme is 'beating plastic pollution'.
Earth is Humanity's only home
An environment is gifted by the nature to nourish the life on the earth. When an ecosystem is under threat it impacts the entire country and sometimes the whole world. Because all the environmental problems that exist have far-reaching implications for the health of the ecosystem and its inhabitants. Humans are creatures of habit, therefore, changing behavior takes some time. But small steps are key. World Environment Day is for all the people for doing something to take care of the Earth.