---
Babiyan, as he was fondly known, would be chuckling from his heavenly abode, having observed with humility his earthly farewell – especially the singing of his well-loved hymns complete with harmonies, the way he would like them, full-bodied! These were sung by members of the former Cantata Singers, a choral ensemble founded by Babiyan in the late 1960s. The spontaneity with which they assembled at his farewell out of duty and devotion speaks much in Babiyan's honour; none needed an invitation, they just turned up to lend their voices in praise of a man who was much admired and larger than life.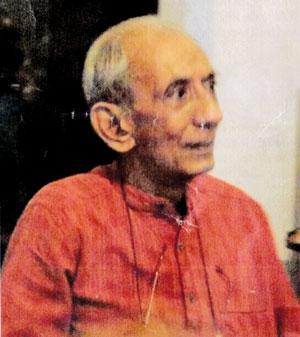 Satyendra Chellappa was born on March 8, 1928 and was 91 years when called to his eternal rest recently – well exceeding the biblical lifespan of three score and ten. He was the eldest in a family of three children, Vinodhini his sister and his brother Nityendra following suit. He spoke about his beloved parents Albert and Annaratnam who raised their children with sound Christian values – the hallmarks of his life that were evident in his journey. He attended Royal College and later Central College in Jaffna. His siblings moved to Australia where they lived most of their adult lives but were closely linked throughout and a great blessing to each other.

Babiyan married his first and only love Mala (nee Singanayagam) without much fuss or fanfare, so typical of him, while they were both parishioners at Methodist Church, Kollupitiya. They blended well and his life flowed like a melody, walking in harmony with his devoted wife Mala beside him in a remarkable partnership of 53 years. He was deeply spiritual and regularly worshiped at Methodist Church where Mala served as organist for over 50 years. Their love for music was mutual and complementing. He undertook a variety of vocations to keep the home fires burning and worked in the advertising industry after a stint in the UK and thereafter in the field of accountancy and even stepping in to manage a school for children with special needs.

"Music gives a soul to the universe, wings to the mind, flight to the imagination and life to everything," said Plato and so it was with Babiyan; he had music running in his veins to spur him on. The love of music and singing was the impetus to form his choral ensemble 'the Cantata Singers' when like-minded music lovers gathered at his home to sing for pleasure. Babiyan was a pioneer in the choral music scene in Colombo along with the likes of well-known and much loved LG singers and a handful of others.

Although Babiyan held no formal qualifications in music, he could read, write and play a score and was extremely-knowledgeable and talented, especially of choral, classical and sacred music. He was deeply-committed and strove for perfection as a hard taskmaster. He directed and conducted the choir with passion and precision. The Cantata Singers under his direction performed oratorios of the great classical composers such as Bach, Handel, Mozart, Pergolesi, Mendelsohn, Schubert, Vivaldi and others, much to the enjoyment of the vocalists and the audiences alike. With his now burgeoning choir with wonderfully gifted voices and musicians, the Cantata Singers hosted their first public performance in early 1970s to a packed house thereafter they became a regular feature.

The crème de la crème of soloists and musicians some who are household names today were protégés of Babiyan and often made their debuts with the Cantata Singers. These super troupers who were bursting with talent and creativity have evolved now to establish their own flourishing and well sought-after academies and choirs to enrich Sri Lanka's music landscape. It is hoped that Babiyan's inspiration and perspiration runs as a colourful thread in the rich tapestry of choral music in the country today. No.6, Chelsea Gardens in Kollupitiya was the address we loved to hang out not so long ago! 'The old house was still standing tho' the paint was cracked and dry, but instead of an old Oak tree there was an old Sapodilla tree that we all loved! This was 'HOME' to Babiyan and Mala for some fifty years. It was Mala's ancestral home.

Babiyan had, in the past two decades, retired from active duty and directing music. He was an avid reader and loved playing chess to keep his mental faculties sharp with his close confidants – Drs. Lalith and Selvi Perera, Irani and Lakshman Kannangara, Charith Gunasekera, Priyan de Livera to name a few. Lalith, Selvi and their girls were a source of strength to Babiyan and Mala who were always there at a 'drop of a hat' to treat their coughs, colds, falls et al! Priyan, their de facto guardian, who in the absence of family in Sri Lanka, managed their earthly affairs. Although Babiyan had no children of his own, he was a father figure to many and an 'Agony Aunt' of a sort where the single, married, troubled all dropped in to pour out their woes over a steaming cup of coffee lovingly prepared by Mala. Their home was their 'castle' and they coped with the help of their visually challenged old faithful Wimala pottering around, while Babiyan's playful pet feline, Pinky, had the run of their home.

Babiyan and Mala's deep faith in the Almighty coupled with their simple lifestyles were a huge gravitating factor to us. The peace of God that we experienced in the warmth and tranquility of their old home is a soothing memory. The piano stood tall at the entrance hall and we didn't need an invitation to sit at it nor break into song. Alas! The old house and the Sapodilla tree are no more! Babiyan and Mala had to be moved into residential care when housekeeping became increasingly difficult with old age and ill health. But through the changing scenes of life, he was deeply grateful to his maker and to all those who cared for them, especially in the latter days of their life.
Savitri de Alwis