---
Children neglected, their education disrupted, families torn apart - as they all grapple with poverty and the grief of losing their loved ones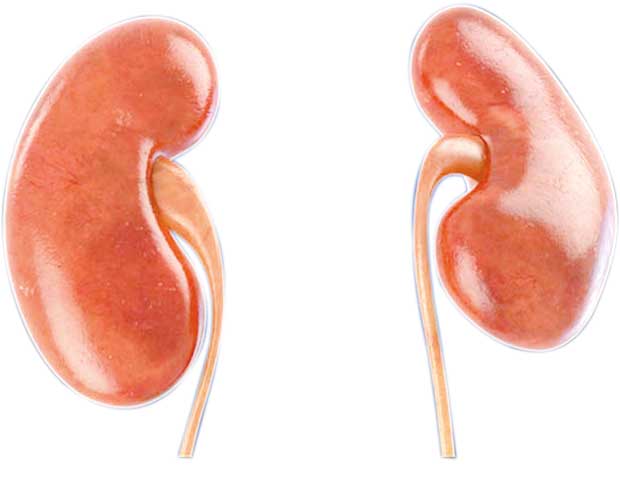 Chronic Kidney Disease of Unknown Etiology(CKDu) has been the subject of much scientific research in the recent past. Though its cause is unknown its consequences are certain. CKDu kills the victim gradually and the family of the victim falls apart alongside, unable to bear the socio-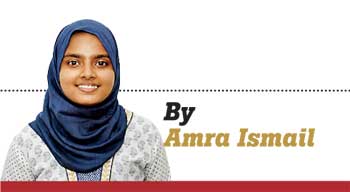 economic burden. CKDu is incurable though the progression of the disease can be slowed down through treatment. It is rampant in areas dependent on farming. Generally the breadwinner, the father of the family contracts the disease. The whole family grapples with the disease trying to cure the victim. When the victim succumbs to the disease misery aggravates. Children drop out of school or neglect schooling to take care of the farm lands. Lands owned are sold or leased out to meet the daily financial requirements. As there is no income the son moves to Colombo to take up odd jobs, ultimately falling prey to drugs and alcoholism. Mothers migrate as housemaids. When one member is diagnosed with CKDu it also points to an inevitable truth that there could be others in the family with CKDu
If there is a family of ten, seven would have contracted the disease
- Harshana Suranga Seneviratne, a university student from Girandurukotte

Thus socio-economic consequences of contracting CKDu are manifold. When Thilanga was in Grade 10 his father was diagnosed with CKDu and he had to stay back to take care of the field. His teacher noticed Thilanga's absence for two weeks and visited his house to discover the father ailing from CKDu. When the teacher inquired from the father about his son's absence the father said, "The child had at least a meal a day because of me. I can't go to work in the field now. I can't provide food. So I have no other option but to ask my only son to stay back and work in the field."
Harshana Suranga Seneviratne, a university student from Girandurukotte narrating his experience at a discussion organized by the Law and Society Trust said that families are compelled to pawn their only bicycle, mortgage their house or plot of farm land as a consequence of the economic hardships resulting from the disease. "Sometimes their children who are just 14 or 15 years in age come to Colombo and work as labourers in construction sites," he said.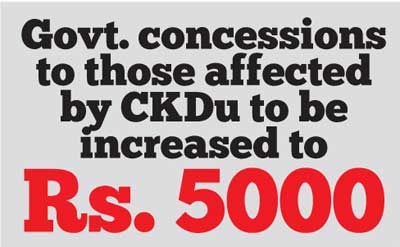 "Where the father is absent, the mother more often than not seeks foreign employment. Children drop out of school. There is a high chance that they will come to Colombo in search of employment and become drug addicts or drunkards. One day we will be talking about why this man turned into such an addict. Isn't it better to prevent the consequences?" he added.
Speaking to Daily Mirror he narrated the sad plight of a young man in his early twenties who succumbed to the disease. "After he was admitted to hospital, doctors said that his condition had worsened and was not treatable. Then he was discharged and subsequently passed away. His mother died unable to bear the grief. Ultimately their funerals were held on the same day," he said.
He further said that in a family there were several members with CKDu which made the impact worse. "If there is a family of ten, seven would have contracted the disease," he said.

Causes unknown, but assumed
According to data compiled by the Ministry of Science, Technology and Research numerous hypotheses have been put forward though none has been proven. Over the years research has pointed out that pesticides, fertilizers, drinking contaminated water, snake bites, fungal toxins, bacterial toxins, heavy metals, fresh water fish, heat and dehydration could be possible causes. It has also been suggested that CKDu is multi-factorial.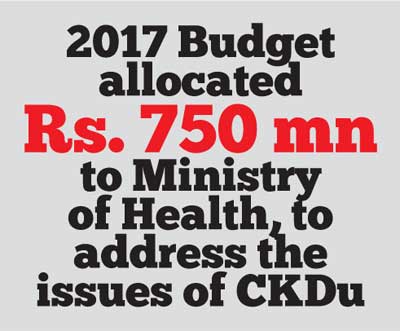 Meanwhile local villages have come to conclusions about the cause of the disease through their experiences. Ven. Thissapura Ananda of the Girandurukotte Rakkitha Viharasthanaya who has donated a kidney and visits the Kandy Nephrology Unit every now and then for follow ups said that drinking contaminated water was the main cause for CKDu. Speaking about the diverse views on the causes of CKDu he said that people believed cooking food in aluminum utensils and consuming fresh water fish caused CKDU.
Drinking contaminated water is the main cause for CKDu
-Ven. Thissapura Ananda of the Girandurukotte Rakkitha Viharasthanaya
Farmers should be aware of the direction of the wind when spraying weedicides, so as to prevent the chemical reaching the skin of the sprayer. But Ven. Ananda pointed out that farmers did not follow such practices due to convenience and ultimately put their lives at risk. "Farmers generally spend the whole day at the farm. They chew betel, drink a plain tea, and have their lunch at the field. Thus the risk of contamination is high," he said. He further said that the attitude to maximize cultivation in the available plot to receive maximum profits has led to the current state of affairs.
Terrance Gamini, an Activist based in the North Central Province who has worked at the laboratory of the Anuradhapura General Hospital for 25 years said by about 1993 people were diagnosed of CKD though they were not diabetic or hypertension patients. "This was the time when agro-chemicals were used widely," he said, implying that the use of agro-chemicals was the main cause.
For the past four years Gamini has been involved in conducting clinics in villages. Along with the assistance of specialist doctors they have organized clinics in Anurahapura, Pollonnaruwa and Vavuniya. Speaking about his observations in these villages he said that the main short coming that led to the aggravation of the disease was the lack of clean water for drinking. "Farmers are hesitant to drink water because of the abnormalities of the water found in that area. For instance, Rajanganaya is an area where water is abundant. But agro-chemicals are used abundantly as well. Annually 50kg of agro chemicals is sprayed on an acre of banana plants," he said.
When malnutrition and dehydration combine CKDu is aggravated
- Terrance Gamini, an Activist
Reminiscing his young days Gamini said that when they were thirsty they used to cup water from a nearby spring and drink. "Back then springs and waterways running through farms were not polluted. After the introduction of agro-chemicals we have become hesitant to drink water as the water that runs by is polluted. Now farmers work without drinking water, and they get dehydrated. They suffer from malnutrition as well. When malnutrition and dehydration combine CKDu is aggravated," Gamini noted.
Explaining further on how kidneys are affected Gamini said that usually when a person vomits continually for several days his kidneys shut down temporarily because of dehydration. However the person recovers once saline is administered. "But if a person doesn't drink water for a longtime, it is worse than dehydration," he said.
He further pointed out that in areas where water is obtained mainly through tanks the concentration of the water increased and became undrinkable, once the rainy season has passed. "People in these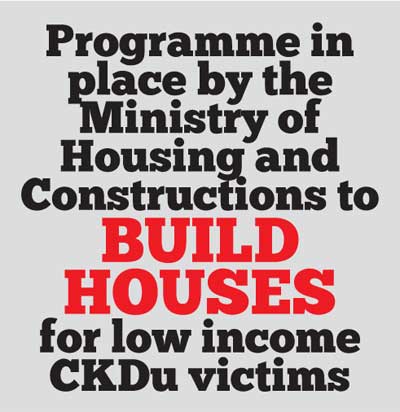 areas don't even drink one litre a day," he said.
Highlighting certain misconceptions which aggravated the disease Gamini pointed out that as CKDu is considered to be incurable people do not go to clinics and test themselves. "Then when the condition becomes worse and visible, when the areas around your eyes, knees, and stomach are swollen the victim consults a doctor to discover that his kidneys are 90% dysfunctional, and will die within a month. If you diagnose the disease in the initial stages you can prevent the disease aggravating without taking any medication. But when we hold a clinic only the elderly take part, others are occupied," he said.
Some also believe that CKDu is caused by medicine prescribed for diabetes and hypertension. "As a result those who have been on medication stop taking them. If you stop the drug for hypertension your kidney will become dysfunctional within a year," Gamini pointed out.
Gamini believes that consuming freshwater fish does not cause CKDu. Substantiating his claim he indicated how fishermen who fish in the Padaviya tank consumed at least 2kg of fish a day, and that there has not been a single case of CKDu reported.
They are hesitant to admit that CKDu is caused by fertilizers and agro-chemicals because multi-national companies have sealed their lips!
- Sena Ranasinghe from Girandurukotte
Sena Ranasinghe, the President of the Trading Society of Girandurukotte told Daily Mirror that 98% in Girandurukotte were farmers and that even children have been diagnosed of the disease. "The water here contains calcium oxalate, fluoride, arsenic and cadmium. If we decide to stop using pesticides tomorrow it will take another 300 years to remove the pesticides that have already been absorbed by the ground. Only 30% is absorbed by plants when pesticides are used. Ten percent evaporates. The rest 60% gets added to ground water," he pointed out.
"Glyphosate is banned now. But there are other pesticides which are fifteen times more severe which are available in markets. The cause is clear, but they are not admitted in public. They are hesitant to admit that CKDu is caused by fertilizers and agro-chemicals because multi-national companies have sealed their lips!" alleged a bitter Ranasinghe.


Prevention
Chronic Kidney Disease can be prevented by controlling the risk factors. However in the case of CKDu as the cause is unknown controlling risk factors is not possible, though assumed risk factors can be controlled, which may or may not yield positive results. A patient diagnosed with latter stages of CKDu will have to undergo either a kidney transplant, or dialysis(haemo-dialysis and peritoneal dialysis).
"Once the condition is aggravated you have to undergo haemodialysis every three days. But there are no facilities in government hospitals. Some people undergo hemodialysis only once in four days. Some don't do it at all. A person above 60 years of age is not given the facility to undergo haemodialysis," said Gamini.
He further revealed that there was an acute shortage of dialysis machines in the Anuradhapura Hospital. "There are 25 haemodialysis machines in the Anuradhapura Hospital. You can only do a total of 75 dialyses a day. As a person has to undergo this treatment every three days only 250 can really benefit. It is only when one of the 250 dies that another gains access. This is the reality," Gamini noted.He said that if haemodialysis was considered to be the solution, then at least 500 machines were needed.
Chronic kidney disease can be diagnosed through a blood test. Pointing out the disparity of benefits between city dwellers and villages Gamini said that though the technology to take 25 tests out of 1ml of blood is available, it was not available in villages where the need is direly felt.
Ranasinghe believes that the only viable solution is filtered water. "Filters are being set up everywhere in the village.Though people drink filtered water they use toxic water when cooking. Then the purpose behind setting up filters is lost," he said. He further explained that as only women attended awareness programmes men were not aware of the value of a filter, and therefore people did not purchase filters which are lifesaving equipment in the area.
Children and others in the families of those diagnosed with CKDu should be directed to doctors
- Amitha Ekanayake, President of the Women Farmers' Association in Dambarawa
Amitha Ekanayake, the President of the Women's Farmer's Association in Dambarawa said that people should adopt good health practices. "Vegetables and fruits may contain traces of agro-chemicals. Therefore they should be washed well," she said.
She further added that children and others in the family of those diagnosed with CKDU should be directed to doctors early on.

Addressing CKDU
Meanwhile the government provides several concessions to those affected. The Ministry of Social Welfare provides Rs.3000 for a family with a CKDU patient. According to Lalith Bandara, the Assistant Secretary to the President, who is attached to the Presidential Task Force, this amount will be increased to Rs. 5000.
"If one of the parents has died of CKDu the child who is pursuing his advanced level studies will be given Rs. 3000 monthly through the Presidential fund. At the moment around 100 students benefit," he told Daily Mirror.
Combating CKDU is considered to be a cross ministerial duty. "We have introduced a loaning facility for those pursuing self-employment through the Ministry of Social Welfare. There is a programme in place by the Ministry of Housing and Constructions to build houses for low income CKDu victims. The budget has allocated Rs.500 million for this purpose. The Ministry of Water Supply has targeted to provide clean water to areas where the need is direly felt by 2020,"Bandara said. He added that there was a shortage of specialist doctors and nursing staff to treat CKDu.
Further, the budget for 2017 has allocated Rs. 750 million to the Ministry of Health, to address the issues of CKDu. A further Rs. 100 million has been allocated to the National Science Foundation (NSF) to facilitate research mainly in CKDu. According to data collected by the Ministry of Health 26 943 CKDu patients were detected by December 2015.
The most number of patients are reported from Anuradhapura and Polonnaruwa. There are also patients from Badulla, Moneragala, Trincomalee, Ampara, Mannar, Vavuniya, Kilinochchi, Kurunegala and Hambanthota.