---
Eye care charity Giving Sight-Giving Life gives free cataract and other eye care service free to the poor-Community Ophthalmologist Dr Asela Abeydeera pioneers service to the cataract-affected poor through the charity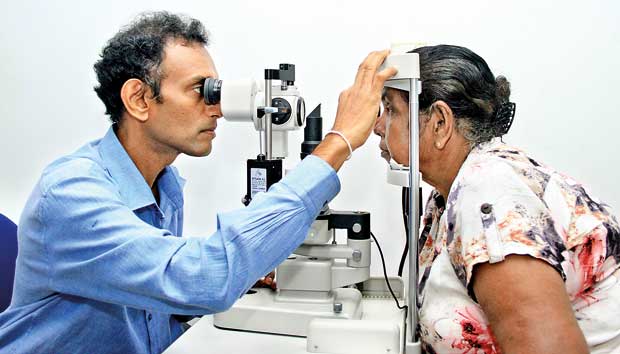 Dr. Asela Abeydeera examining a patient at the the Karuna Community Eye Care Service Centre, Maharagama
Cataract ultimately results in complete blindness

A simple, quick, painless, low cost surgery can restore eyesight

Many people in our country who remain blind due to various reasons – a few of them being non-awareness, no access to resources due to poverty, distance or lack of someone to accompany, and also because of fear
Currently, there are more than 100,000 people in Sri Lanka who have gone blind because of cataract and thousands are added to this number every year.

It has been estimated that there would be over 1 million people expecting to go through the cataract surgery in Sri Lanka during the next five years.

Cataract, ultimately results in complete blindness, but amazingly, a simple, quick, painless, low cost surgery can restore eyesight. Even though such a simple treatment is available, there are so many people in our country who remain blind due to various reasons – a few of them being non- awareness of the possibility to cure the condition, not being able to access resources due to poverty, distance or maybe lack of someone to accompany, and also because of fear and lack of trust in treatment.
Giving Sight-Giving Life is a community service project, initiated by Dr Asela Abeydeera, President of the Sri Lanka Association of Community Ophthalmologists of (SLACO) supported by principle funding agency- the Karuna Trust.

How 'Giving Sight-Giving Life' began
Giving Sight-Giving Life was launched only six months ago, on September 9, 2017.
Dr Asela Abeydeera, the pioneer of this project has secured funding of the Karuna Trust to open an Eye Care Service Centre in Maharagama in order to carry out this project.
Dr Abeydeera is a Community Ophthalmologist, whose speciality is to prevent blindness by working in the community.
The Karuna Trust is a charitable trust of Mr Mahinda Karunarathne, a successful businessman.

Services rendered by the project
One of the main services rendered by the project is providing cataract patients of low-income families with free cataract surgeries.
During these six months, about 450 cataract surgeries had been performed through this movement. They have also provided around 200 free reading glasses to such patients.
In addition to this, more than 500 reading glasses have been provided for free to those whose eyesight weakens as they pass the age of 40.
The low-income families are selected after an interview process during examination and also after a certification by the Grama Niladhari and Secretary of the Pradeshiya Sabhas in the relevant authorities.
Anyone can walk in and get their eyes checked at the permanent eye clinic, The Karuna Community Eye Care Service Centre at 114/1, Dehiwala Road, Maharagama is open from morning to evening weekdays.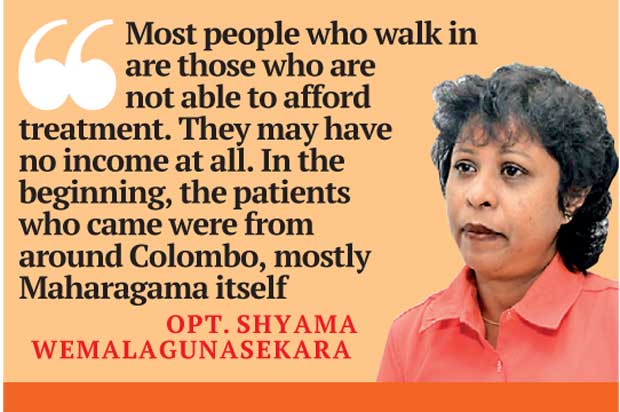 Optometrist, Shyama Wemalagunasekara, also the Director of the Sri Lanka Optometrists Association, manages the centre and refers the patients to cataract surgeries as a volunteering service, while also inspecting spectacles and conducting visual assessments.
Dr Abeydeera inspects patients on weekdays after 4.30 during his off hours.
Dr Nalin Gunasinghe also works one day. Even on weekends, Dr Abeydeera and his staff are engaged in the project.
There is also a steering committee Chaired by Mrs Sudharma Karunarathne, where they discuss further possibilities of enhancing the project.
"Most people who walk in are those who are not able to afford treatment. They may have no income at all. In the beginning, the patients who came were from around Colombo, mostly Maharagama itself," Shyama Wemalagunasekara said.
"But we now have patients coming here from all over the island – Badulla, Hambantota and even Wellawaya," Ms Wemalagunasekara said.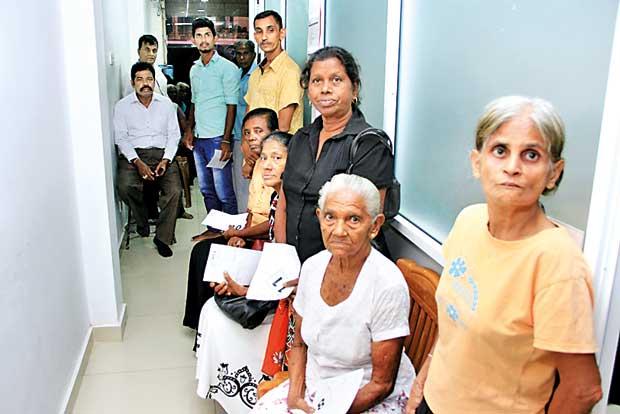 Patients lined up for eye examination
Pix by Pradeep Dilrukshana

Cataract and the cataract surgery
Having inquired about the nature of a cataract, Dr Asela stated that it was a condition where the lens in the eye loses its transparency becoming opaque causing the vision to be blurred and if not treated, will result in complete blindness.
"The cataract surgery is the only cure for the condition. Through this simple surgery, the natural lens is removed and an artificial one is replaced. A lens can be bought for Rs. 1,800 and they are readily available in the market. The cataract surgeries conducted by the Giving Sight-Giving Life project, are carried out in the HelpAge Eye Hospital, Wellawatte, Lions Eye Hospitals in Pandadura and Kadawatha and Suwanetha Eye Hospital in Gothatuwa.
"Once the patients are registered for surgery, surgery dates are fixed based on the availability of funds and eye surgeons in hospitals. We provide transport to the patients and bring them to the hospitals, conduct the surgery and then examine them the following day, a week after and a month later.
"If the patients are unable to come for the follow up examinations, we go to where they live and render that service to them," Dr Abeydeera said.
"The cost to get a cataract surgery done in the private sector can sometimes cost about Rs. 80,000. But we provide a low cost service, which costs only Rs. 8,500 which includes the cost of the lens, hospital bill, utilities and staff payments all of which are discounted. While the surgeries are conducted by a few hospitals that we are connected with, we provide the funding through our donors," he said.

Outreach Programmes
Giving Sight-Giving Life also conducts at least one outreach programme every month.
Dr Abeydeera and Opt. Wemalagunasekara recalled the outreache programmes conducted by them in Sithulpawwa, Aluthgama, Agalawatte, Hangwella, Deraniyagala.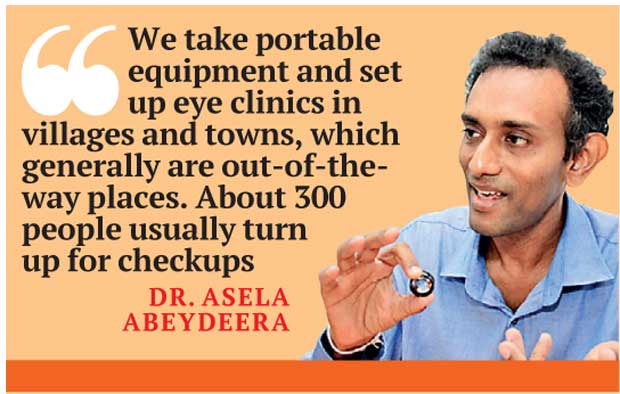 They also informed about the upcoming outreach programmes to be conducted in Kamburupitiya, Akurassa and Hakmana.
"We take portable equipment and set up eye clinics in villages and towns, which generally are out-of-the-way places. About 300 people usually turn up for checkups. Once we identify cataract patients, we register them for surgeries and do the needful.
"We usually receive a request from a local authority or a community leader in the area to do an outreach programme, and we are always ready as time and money permits, to conduct them.
"We meet many people who have become completely blind due to cataract at these outreach programmes and it's amazing to see how they regain sight after going through the operation," Dr Abeydeera said.

Funding and donors
"The main fund for the project is the Karuna Trust. The Eye Care Centre functions completely on funds provided by the Karuna Trust. We have also developed a website (www.givingsightgivinglife.lk) for the project through which we receive many donations and hope to receive even more.
"We still need more funds in order to conduct outreach programmes. There are more than 200 patients who are still waiting for donors to fund their cataract operations" Dr Abeydeera said.

Other initiatives
Dr Asela informed us that they are now conducting a programme in the Maharagama Education Division across over 20 schools where they train schoolteachers to identify schoolchildren with eyesight issues and direct them to us.
"We have given the teachers an E-Card to do this and they have responded with lists of names of the children who need spectacles. We intend to bring them to the Eye Care Centre and issue them free spectacles. We have found a generous donor for this project alone. We hope to expand the programme to Hambantota and Bentota.
"We have also taken the initiative to set up satellite centres in rural areas, so that people with impaired vision, especially because of cataract, can be identified and sent to us, and we are able to do what we can to treat them."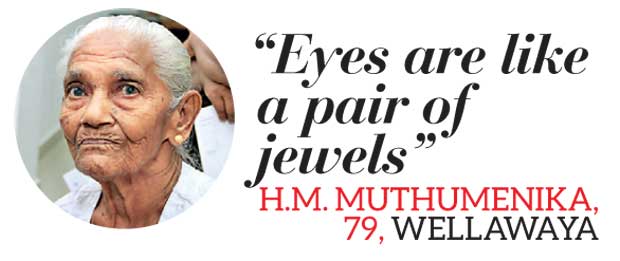 Muthumenika, who is almost blind due to cataract, praised everyone involved with the project.
"To everyone, one's eyes are like a pair of jewels and should be always protected. Giving Life-Giving Sight is a truly meritorious initiative. We have been to both government and private hospitals, but we were not given a proper response or a good service. Here, we are provided a genuine voluntary service and for this the doctors, staff must be blessed by the Noble Triple Gem."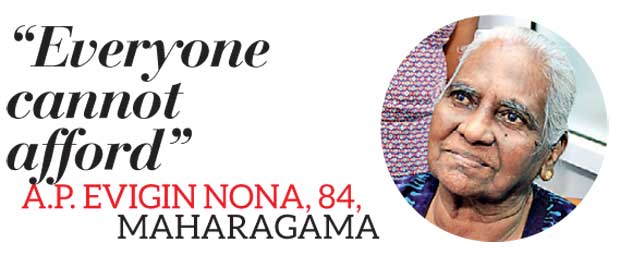 Evigin Nona, who has already gone through an operation via this movement two months ago could not stress the value of the meritorious deed provided to society.
"I didn't even have to know which hospital conducted my surgery because I was transported to the required hospital and everything was provided. Now I can see. These programmes are required in our country because everyone cannot afford to buy a pair of spectacles or spend for a surgery. Through these noble services, poor people can benefit and live a healthy life. We thank the Karuna Trust and Giving Sight-Giving Life for serving our community and helping people this way."
In a day, where the rich become richer depriving the poor and needy of even the bare minimum that they are entitled to receive, serving our own community by not only providing free consultation and free spectacles but taking that extra step to conduct surgeries for cataract patients and see to it that they are fully recovered is a noble deed indeed.
The reality that a successful surgery can actually prevent such patients from becoming blind or even sometimes curing them of blindness is actually giving them their life.
For more information:
Karuna Community Eye Care Centre,
114/1, Dehiwala Road,
Maharagama, Sri Lanka.
Land Line: +94112745525,
Mobile : +94772914060
E-mail :
giving.sight.life@gmail.com
kakrunatrustlanka@gmail.com

Website: www.givingsightgivinglife.lk
For donations:
AC 81010542
Bank of Ceylon,
Homagama.
Swift Code – BCEYLKLX