---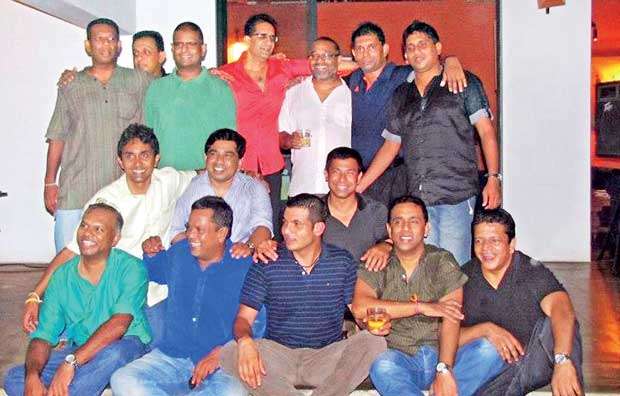 Sampath Agalawatta
1984 team get together
Death is certain. We come with nothing into this world and will go with nothing, but our impact on those we encountered will last a lifetime.

Our friend, our teammate and our workmate Sampath Agalawatte passed away on August 29. His funeral, in accordance with his wishes, was to be held within 24 hours of his passing. The irony of it all for me was that I could not physically be present to bid a final farewell to one of my closest friends, as I was stuck in the Kumana National Park. Life seemed to be so cruel for him as he was taken away from us so early. His parting came about ten days before his 53rd birthday. But whatever religion we believe in, there is a larger 'plan' in the works for all of us and it is left to those left behind to accept this reality and keep forging on. Yes, we knew the end was on the horizon once Agale's diagnoses of Cadasil and cancer were confirmed, but it still makes one feel desolate about losing a loved one and a close friend. Agale was that to many people.

Agale was a unique friend. He was quiet and reserved with a lot of people, but vivacious and hilarious when among his close friends. He would not let them down. He was ethical in dealing with the world, which was a very refreshing quality. In most instances, my experiences with him have been either black or white, no sitting on the proverbial fence. He was an old fashioned thinker on a personal level and at work, but you knew exactly where he stood with regard to issues. These rare qualities made working with him easy and straightforward, especially in the context of today's corporate setting.

He was always happy-go-lucky with his friends and if he was in a drinking mood (more like a gulping mood), we had to watch out; he danced, sang, shouted, pinched and screamed his lungs out in song during such times. He loved the Royal Thomian Cricket match and in the last 5-10 years if a Royalist scored a century, he would ingeniously find a way to avoid the stewards, prefects and security officials in making a beeline to the middle of the pitch to congratulate the century maker. The sheer joy he demonstrated in jinxing and sidestepping away from the stewards on his way to the pitch was his way of saying, "Hey, I can still sidestep like I did during my playing days."

His love for his school and rugby were demonstrated when he joined our legendary coach, Summa Navaratnam to help coach our juniors (10 years and below), faithfully on most Friday afternoons and Sunday mornings. This was his dedication to his alma mater and the sport he loved the most.

A few anecdotes of Agale.

He was the Donhorst Prize Winner in 1984. Agale was very fond of my parents and used to visit our home quite often during our rugby-playing days. On a day soon after he had achieved this great accolade, he came to my home and my dad was in our living room at a meeting with the then presiding Bishop of Colombo, Bishop Swithin Fernando. My dad proudly announced to the Bishop that Sampath was the esteemed winner of the Donhorst Prize at Royal, the most coveted prize at College previously won by another distinguished Royal alumnus, the legendary Bishop Lakshman Wickremasinghe, Bishop of the Diocese of Kurunegala. Before Bishop Swithin could even respond, Agale took off like a jack rabbit saying, "no, no, it's not me." He was too embarrassed and too modest to admit that he was the winner.
Our 1984 Thailand trip with the rugby team trip was a hilarious time for all of us. A time of growing up! A time when boys became men. Most of us were flying for the first time, so getting on the flight was an experience in itself. Once our two matches were over, where we won one comfortably and lost the other one badly, we now had more enjoyable pursuits in mind – shopping and having a drink, well…..soft drink! While I will spare the embarrassment of what some of our teammates got up to, another bunch were under the impression that in Thailand, if there was no price tag on an item in a store, those items were free. You could not see a more bemused look than the one on Agale when he along with a few of us were chased, yes, literally chased out of a shoe shop as soon as we entered. Why? Well the previous evening, some of our teammates had walked out of the store without paying for their items so when Agale and some other teammates showed up to "claim" their free shoes, the store keepers were waiting for us. We thought Agale was fast on the field, but he was even faster than we had ever seen him fleeing from that irate store owner, faster than an antelope being chased by a leopard!

We also had the constant ribbing of our teammates, specifically to figure out who actually captained and who would be the water boy. I guess this will be a joke for all our teammates who enjoyed this jostling of words for years. Let's continue to do just that in the future as well.

Agale, you will be missed, but not lost in our minds, you will be remembered as our friend, captain, work colleague and "Amba Yahaluwa". We will never forget you!
A wise man told me about 19 years ago, don't have regrets in life, but think of them as learning experiences and look to the future and not the past. And LIVE the future like tomorrow is your last day. Wise words indeed! So my teammates and friends, I hope you do the same. It is never too late.

To Dilhani, Samali, Samal and Sahan, God's Blessings. We will not go away and are only a phone call away. Stay strong, there is always a reason why God chose your loved one. He is in a better place.

May you attain the supreme bliss of Nibbana, my friend. Rest in peace, my friend. You were a beacon of light to a lot of us. You keep looking out for us and we will do our best to Live it, Love it, Enjoy it and Share it – Life, I mean.

Jehan CanagaRetna