---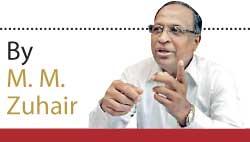 National security-conscious concerns that nearly 1.4 million Muslim voters will be strongly-influenced this time by election manifestos as well as 'promise-upholding' credentials of presidential candidates who pledge an end to terrorism without multiplying extremism among diverse communities.
The influence of Muslim politicians on the community's decision-making process will be minimal as was the case in the run-up to the January 2015 presidential election, according to former MP M.M. Zuhair. His full statement is as follows:
The failure of Muslim politicians to honestly address community concerns when in power and the gross neglect of Muslim political parties to meet at least key presidential candidates to address security concerns of the country and the community have led to a loss of trust and confidence in most of them. The community is still in deep fear of the 21/4 terrorist attacks by an insignificant number in the community, being exploited to stigmatise the wider community including innocent Muslims, the community's civil activists and even its politicians. They fear harassment and intimidation of the innocent will lead to increased radicalisation among Muslims and counter-radicalisation amongst the rest. This will result in sharpening divisions and will not help unite communities.
Over 1,800 Muslims have been arrested since 21/4 with several released and some enlarged on bail while the rest are in detention for many months
Over 1,800 Muslims have been arrested since 21/4 with several released and some enlarged on bail while the rest are in detention for many months. The community wants a genuine national leader who will eliminate the terrorist problem without cornering a weak segment of the country's population, nearly 100% of whom are anti-terrorist. The 1.4 million Muslim voters want a leader who will pledge to eradicate extremism amongst all communities. The elimination of terrorism cannot be achieved by Sri Lanka openly facilitating persons from countries with vested interests; led by those who treat persons of colour and Muslims around the world as their enemies. External interferences will multiply, not solve national problems. Manifestos which declare Sri Lanka as a non-aligned nation and Indian Oceanas a 'Zone of Peace' will score heavily at forthcoming elections.
Incidents of terrorism, similar to 21/4 attacks, can never be eradicated by adding to the arsenal of ultra-nationalists, such arms industry inspired Islamophobic weapons as 'fundamentalism,' 'Wahabism,' 'Salafism' or 'Arabisation.' Rehabilitation programmes can help eliminate violent extremism more effectively. Muslim support, not ostracization, is key to the successful resolution of this problem. We have lessons to be learnt from the total failure of Western countries and their so called 'experts' to eradicate terrorism anywhere in the world since 9/11. Sri Lanka is capable of wiping out all forms of terrorism if it liberates itself from foreign interferences in this arena.
Election manifestos and campaign speeches which reflect the forging of national unity and economic self-sufficiency without exploiting ethno-religious sentiments will also be assessed in deciding on whom to vote for.