---
Kingsley married Margaret in 1967 and lived as husband and wife for 48 lovely years bearing three children, made them I.T. professionals, married and settled down well in life. Hailing from the illustrious family of the Rajamonies of Welihena, Kochchikade, Negombo, she was the 6th gem in a family of 6 brothers and one sister. She was in perfect health, a devoted wife, loving mother, affectionate to grandchildren and concern of her siblings. She was a skilled chef making tasty dishes which many speak of today.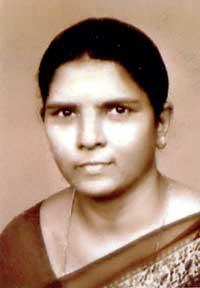 The unfortunate fall in 2011, fracturing her hip, surgery, physiotherapy, walker and finally in the wheel-chair changed her life. She was sorry for what I was doing. I reminded her of the oath taken at marriage - "in sickness, in sorrow, we shall be true to each other. Forty eight wonderful years, came to an abrupt end on 21st August, 2015. We both cried and you closed your eyes leaving me lonely. You were God's gift to me and snatched away from me leaving me lonely and a miserable life without you. What is the purpose of living like this just to while away the time for my end to come! Painfully, I pen these, dear Margaret your memorable love immortalised in my memory. The earth restores the seeds that fall on it into a new life but in the case of humans it doesn't. So 1et it be!

I feel your love very much though far from me. In life I loved you, in death I love you more! 48 wonderful years together and you left me lonely 5 years ago with a painful vacuum. I still remember your image, you and I left each other forever. God gave you to me and he took you away. The fence between us is very long but cannot fence my love to you in death as I did in life and that love I have for you will never bereave till I live.

Sadly missed and fondly remembered on this 5th death anniversary and how many more to go? God only knows "Eternal rest grant unto her, Oh Lord! and may she rest in peace.
Sorrowing husband,
Kingsley Durairaj
Pannipitiya.