---
With all her past protests producing no breakthrough a mother of two takes to the streets today to locate her husband abducted 5 years ago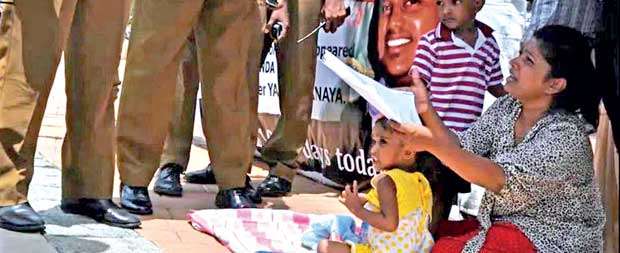 To find out the fate of her husband and seek justice
Expedite the trial and conduct it impartially
A school for her children and to ensure a future for them
She is a diabetes patient
Two years back she staged a silent protest before the Presidential Secretariat

Mauri Inoka's husband was abducted five years ago, in 2013. At the time she was pregnant with twins. Since then she has toiled day and night to bring up her children despite the backlash against her on social media and other platforms.

Her husband, Madushka Haris de Silva, a fruit seller, was abducted along with his two friends on September 02, 2013. His friends were released. However, Mauri claims that to date no statement has been obtained from them, though there is a case pending before the Anuradhapura Court which was filed based on the complaint she had made to the police. "There are two eyewitnesses and we have details of the number plate which was on the vehicle used to abduct him," she told Daily mirror .

Her primary concern is to find out the fate of her husband and seek justice. "He was abducted for political reasons. But my husband has not committed any wrong to deserves this kind of treatment. You can't just penalise a person without proving the offense. They say he took ransom. I want them to prove it," she said.

Meanwhile, she also raised concerns about her five-year-old twins who haven't received any assistance from the Government. "I want a school for my children. Though I sent applications to many schools, I have not received responses," she said. Mauri wishes to educate her children and expressed hopes of receiving the help of a benefactor who would support them. "I don't want a cent for myself, but I want my children to be educated and have a future," she said.

She is a diabetes patient and is suffering from weak nerves owing to stress. She used to work as an attendant in a hospital. However, the inability to leave her children behind at home has now prevented her from going to the hospital. At the moment she makes flower pots for a living.

Silent protests

During the past five years Mauri has been silently protesting in various places; for instance before the Presidential Secretariat in 2016. "But the OIC filed a case against me and the others present for using my children cruelly as tools for the protest," she said. She pointed out that the children were kept in the shade and were given drawing books to draw on.

She added that though she was asked to come to the police, owing to harassment by the police, which she has previously experienced, she did not go. "There is no point in questioning me constantly. There are two people who were with my husband. There are eyewitnesses. Their testimonies should be collected!

"Why is this case being ignored despite there being so much information?" she quizzed.
But the OIC filed a case against me and the others present for using my children cruelly as tools for the protest

Two years back she staged a silent protest before the Presidential Secretariat with the hope of meeting the President as part of her fight for justice. With no answers to the questions that were posed in the placards that were held at the protest- "Where is Madushka? What happened to him?- and despite the false promises and the intimidation, she is still determined to stage a silent vigil. Mauri Inoka will be staging a protest alongside activists at the Galle Face Green on September 4 (today) from 8am onwards and it will go on throughout the night.

"This time I don't want false promises. I don't want to be fooled again," she affirmed.