---

International Oral and Maxillofacial Day celebrated in Sri Lanka on February 20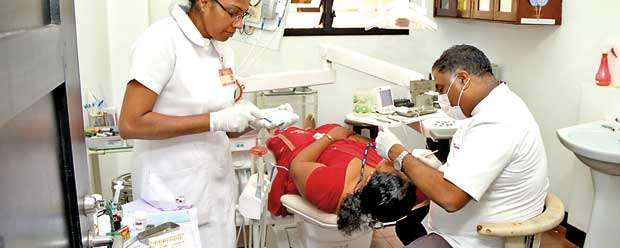 According to a Japanese proverb face is considered as the mirror of our souls.
True to this fact, we all know, our face reflects almost all the hidden secrets of our body and mind. Not only that, face and mouth are very important in many vital functions like, breathing, speech, feeling sensations, and plays a unique role in beauty.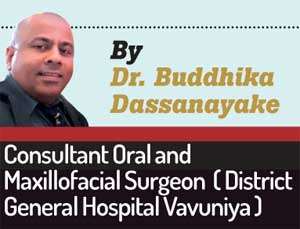 In today's society we all see, all are concerned about maintaining good oral health and care a lot about health and well-being of face.
But unfortunately, this area of our body is prone to a vast array of disease conditions and accidental injuries. Oral and Maxillofacial Surgery (OMFS) is a unique surgical speciality, that treats, by way of surgery and medicaments, the diseases that affect face and mouth.
Following is a brief description of areas that you can seek advice from an OMFS clinic.

Oral Cancer
This is a grave health problem our Sri Lankan Society is facing at present. While this is the commonest cancer among males, in females it is breast cancer. The main culprits that cause oral cancer are betel chewing, smoking and alcohol. These bad habits which are deeply rooted in our society lead to many diseases including oral cancer. This deadly disease causes a number of deaths, oral and facial disability, and facial disfigurement every year.
Though this is a condition that can be prevented easily, ignorance has led to a high prevalence of the disease. It is very important to keep away from those risky habits to not to be a victim of oral cancer.
"The second most common birth defect after Club Foot is the Cleft Lip and Palate deformity. It is estimated that this happens once in every 700 live births"

And it is also important to do a self-oral examination at least once in every three months. If you detect any white or red patch, or any suspicious growth, consult your dental surgeon/doctor immediately, and get advice.
The mainstay of treatment for oral cancer is surgery. Apart from that Radiotherapy and Chemotherapy also play a role. It is a complex task to reconstruct the affected part to bring back to the normal condition and prevent disfigurement.
The necessary advice and treatment can be obtained from any oral and maxillofacial surgery clinic, as well as onco-surgery clinics islandwide.

Facial Trauma
Facial injuries can be caused by many reasons, such as road traffic accidents, interpersonal violence, falls, sports injuries, or animal attacks.
Whatever the cause this can damage the soft tissues in the face, breakage of facial bones and teeth. As the facial skeleton is a complex structure, bringing back the normal form, function and aesthetics, to pre-injury status is a difficult task, which is performed in oral and maxillofacial Surgery Units.
As it is very well understood, prevention is better than cure, respecting the road rules, wearing seat belts and helmets are of prime concerns, to which people need to pay attention.
"The International Oral and Maxillofacial Day is commemorated on February 13 every year. The Sri Lanka Association of Oral and Maxillofacial Surgeons have organized several events to mark the IOM Day on Tuesday, February 20.
Among other things the association has organized a blood donation campaign from 9.00 a.m. onwards at the National Dental Teaching Hospital, Colombo.
In addition to that, they intend to educate the public of Sri Lanka about this surgical speciality, and what are the treatments and advises that they can get from OMFS clinics that are widely available throughout the country."

Cleft Lip and others
The second most common birth defect after Club Foot is the Cleft Lip and Palate deformity.
It is estimated that this happens once in every 700 live births. The children who were born with this defect, face a lot of problems, but luckily thanks to the advancement of surgical facilities and techniques, they can be treated to bring them back to near normal and face society with confidence.
But for this, they have to undergo a series of surgical operations starting from early childhood to early twenties.
And due to the complexity of care, it is always better for them to be followed up in specialized centres.
In Sri Lanka we have three centres as such, they are Faculty of Dental Sciences Peradeniya, oral and maxillofacial unit, Karapitiya Teaching Hospital, and Lady Ridgeway Children's Hospital, Colombo.The required surgery and advice also can be obtained from oral and maxillofacial units in hospitals throughout the country at the convenience of the patients.



Orthognathic Surgery
As the name suggests, orthognathic means correcting the jaws. In simple words, it is the repositioning of the jaw bones and correcting the facial asymmetries. All of us have seen people with retruded or protruded upper or lower jaws, and significant asymmetry of face. These anomalies are corrected by surgery with the help of the
orthodontic treatment.
Here, the oral and Maxillofacial Surgeons treat the diseases occuring in dentition and associated structures by means of surgery. This may be the teeth that are stuck within jaw bones (eg. wisdom teeth), cysts and tumours, or abscesses and infections.
We all like to have a beautiful face. But there could be certain things that worry us. It could be a scar or sagging facial tissues, or age changes that cause wrinkles. The oral and maxillofacial surgeons will help, advise and treat you to maintain the youthful appearance of your face.
Apart from above mentioned specific areas, the Oral and Maxillofacial Surgeon will help and treat you regarding diseases in salivary glands, Temporomandibular joint (Joint in the Face), oral mucosal diseases, Facial skin cancers, oral pre-cancer conditions.