---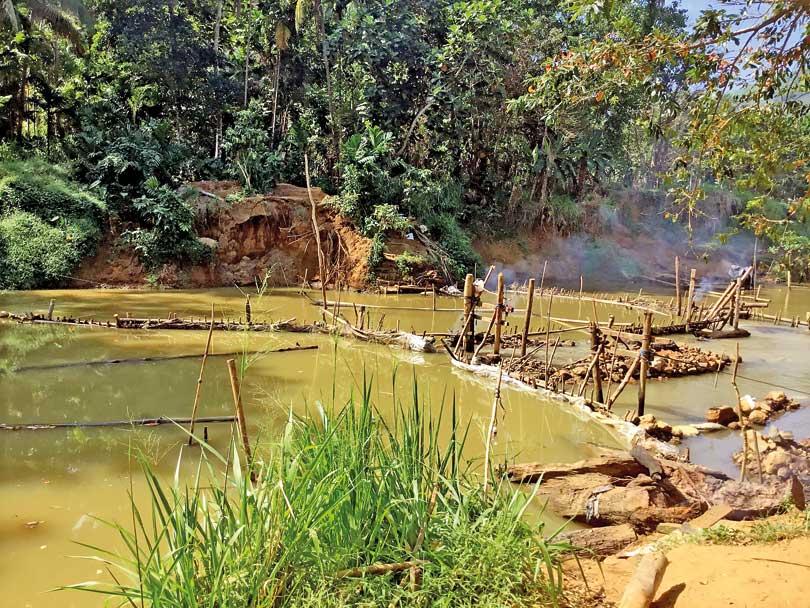 Makeshift dams as seen in this photo are built across rivers to stop the waterflow

Ratnapura, the land of gems, is one big mine today. As you go towards the interiors one could witness almost every tributary and main river separated by makeshift dams to aid mining activities. While a handful of these operate with licences, many operate as unregulated and illegal mines. Apart from gem mining, most illegal miners also engage in sand mining as a side business to raise extra income. Mining itself has become a source of employment for youth in the area who risk their lives to dredge deep to find their fortunes. Unfortunately, they are unaware of the larger environmental impact caused by haphazard mining activities. During a recent visit to Nivitigala, the Daily Mirror came across several illegal gem and river sand mining operations.
Nivitigala under threat
During our visit to Nivitigala in the Ratnapura District, the Daily Mirror learned that four tributaries feeding the Kalu River, namely Wé, Delwala, Karavita and Hangamuwa Rivers have become potential grounds for unregulated gem and river sand mining. Along Wé River alone, one could find over 50 such places where the river has been diverted using makeshift dams to stop the water from flowing to aid mining activities. Unregulated gem mining happens as an organised crime where informants are placed in towns and nearby localities. If an unidentified vehicle is seen approaching the mining site the workers are informed beforehand. Others would continue their work despite being exposed. Although it is an area rich in biodiversity, environmentalists suspect that the greeneries may not sustain for long. Rivers have already turned muddy and those living along the banks of these four rivers cannot utilise water anymore.
---
During mining, they dredge the rivers to extreme depths
Rivers have already turned muddy and those living along the banks of these four rivers cannot utilise water anymore
---
Death threats and acid attacks
Although law enforcement authorities such as the Divisional Secretariat have been pressing hard on suspending illegal mining activities, the situation has taken a life-threatening turn. "Right now we have taken many steps such as raiding illegal mining sites and getting hold of the culprits," said Nivitigala Divisional Secretary S.M.D.C Samarasekara. "But we cannot do it single-handedly. The gem and jewelry authority also conducts raids, but it isn't enough. The Geological Survey and Mines Bureau (GSMB) officials haven't inspected these illegal mines. The Police also have a duty to suspend the activities of illegal mines and protect the environment. Certain elements have issued death threats and warnings of acid attacks as well since they have the blessings of politicians and want us to stop doing our duties. We are doing a duty and it looks like we won't be able to do it in the future. We need to think twice when we are already receiving threats. I can't put my employees' life in danger. When we go on a raid, the culprits question us as to why we are involved in raids when it is the Police or STF who should be handling it. What they do not know is that the rivers fall under the purview of the divisional secretariat. The damage is already done to all four rivers and it is getting out of control," said Samarasekara.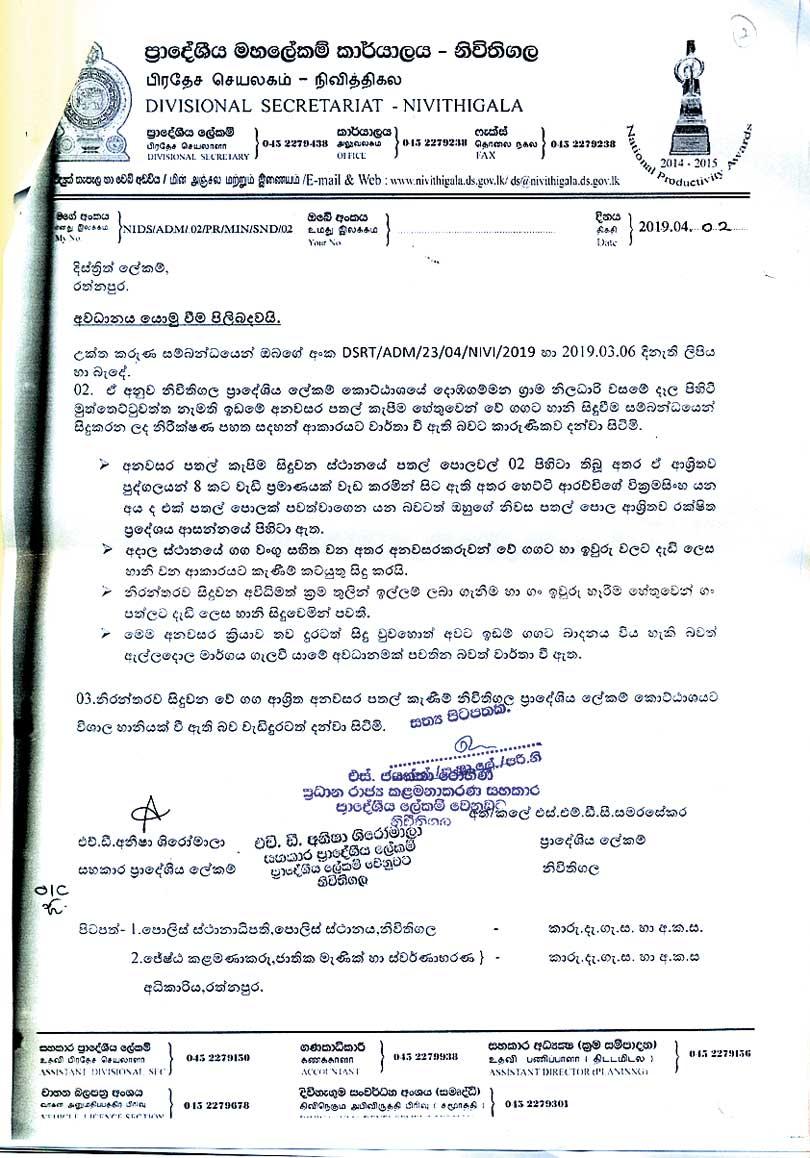 ---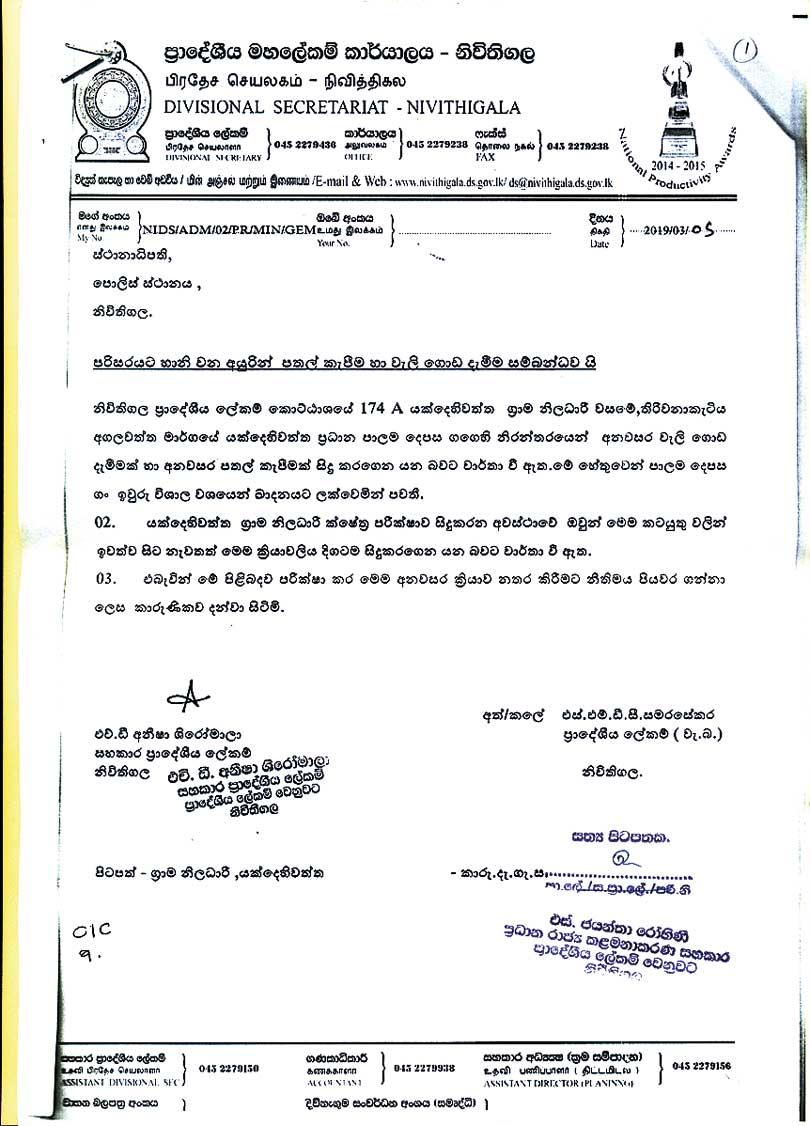 Speaking about the ongoing mining activities Samarasekara said that people make use of iron plates to get the sand and it needs to operate through a motor. "In order to generate power there has to be electricity and it has to be taken from a house. It is illegal to get electricity from a house for external use. We have informed the Electricity Board regarding this matter. If their usual electrical consumption is beyond the limit then it has to be investigated. But so far we haven't come across any such incidents," he added.
The Daily Mirror is also in possession of several documents filed by the Divisional Secretariat informing the Gem and Jewelry Authority and the Provincial Secretariat to take necessary actions. But so far these requests have fallen on deaf ears.

Illegal mining operation along We River
Rivers getting destroyed on a massive scale
Speaking on the environmental implications, Rainforest Protectors Sri Lanka convener Jayantha Wijesingha said that illegal and unregulated gem mining takes place in almost all rivers at a massive scale. "The scale is so large that all river banks are failing and eventually the waters become muddy. Illegal sand mining happens along with gem mining in turn posing a threat to aquatic species. The Kalu River feeds almost a million people from Nivitigala towards Kalutara. Here the DS and the Police don't actively apprehend the culprits or practise the law as there are much political influence. Therefore law enforcement authorities cannot enforce the law on culprits. However these rivers are getting destroyed every day. During mining, they dredge the rivers to extreme depths. This is detrimental for the people who use the river for their day-to-day activities such as bathing etc. On the other hand riverbanks are getting widened and the depth is increasing. Makeshift dams using areca nut and coconut timber are being constructed. In turn, rivers don't flow anymore and when there is rain there is the risk of floods. If these activities don't stop the Kalu River would have lesser water. If this was regulated to a certain extent the water would be much clearer and better for the environment. Trees and other minerals on either side of the river will remain and the river buffers would be protected," explained Wijesingha.
Offshore sand as a possible alternative
Researchers claim that offshore sand and manufactured sand (obtained from quarries) are viable alternatives for river sand. Offshore sand has been considered as probably the best alternative for river sand. "Using beach sand is not a viable solution due to its relatively high salinity; and also adverse impacts such as coastal erosion, salt water intrusion into rivers and collapsing of riverbanks. However, it has been found that the costs of pumping and dredging offshore sand from beyond the nearshore zone will be considerably lower than for river sand," said Prof. Priyan Dias, Senior Professor, Department of Civil Engineering, University of Moratuwa. "Researchers at Moratuwa University have explored the potential of using offshore sand as a viable replacement for river sand. The main objectives were to review the prevailing literature and practice regarding the concept; to characterise the sands through properties such as grading, and shell and chloride content; to quantify the effects of natural drainage and rain on the chloride content; and to study the corrosion performance of reinforced concrete specimens made using offshore sands. The research was funded some years ago through Coastal Resources Management Project. The offshore sand product is commercially available at the Sri Lanka Land Reclamation & Development Corporation (SLLRDC) which also commissions the dredging-beyond the wave dynamic zone to eliminate any risk of coastal erosion. The SLLRDC is now mechanically washing the product to ensure that it is virtually free of any chloride content. We don't encourage people to get offshore sand from any source other than SLLRDC," said Prof.Dias.
The Daily Mirror contacted Nivitigala Police Officer-in-Charge to inquire about raids conducted to suspend illegal mining activities, but the line was disconnected thereafter.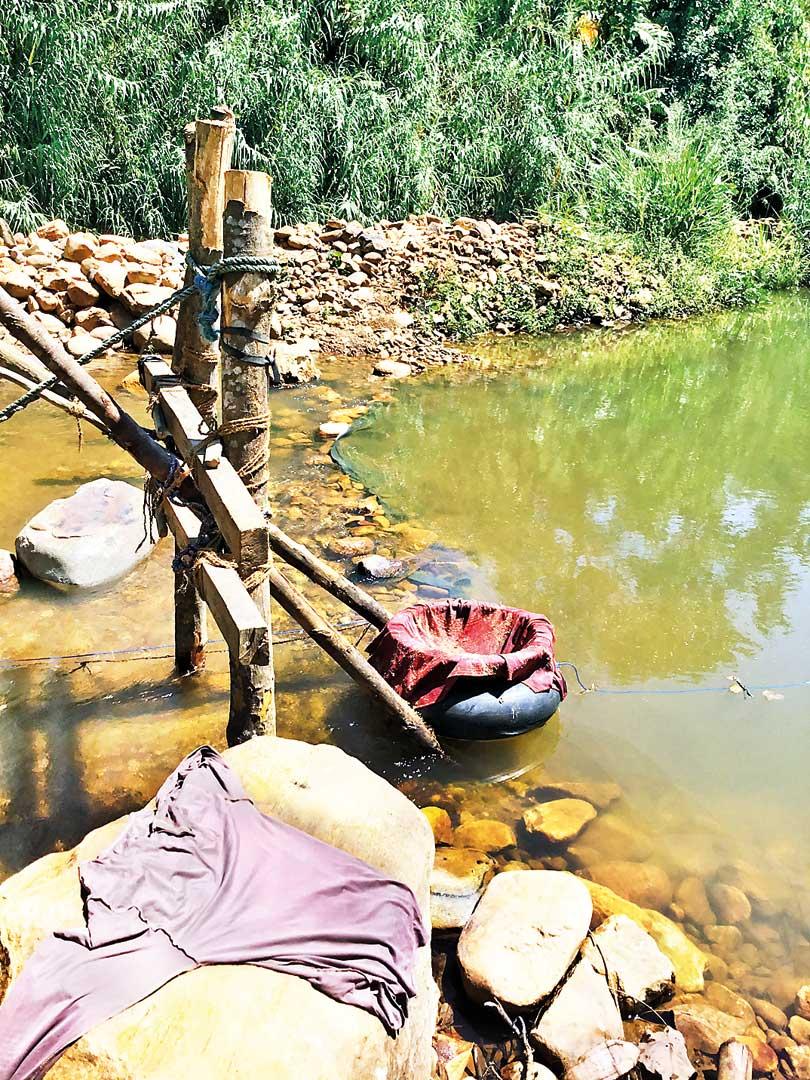 An illegal gem mine in the Delwala River