---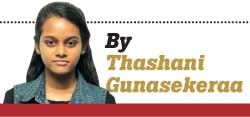 Living over a century may seem a fantasy to many, but not to Don Edwin de Silva who turns 101 on 8 June this year. Edwin blows out the candles on the cake this year celebrating his 101 years of thrilling adventures and experiences.
Edwin was the eldest in the family, born on 8 June of 1916. His family was originally of the down south region but moved to Kurunegala around the time of the First World War. So his early childhood years were spent at Kurunegala, receiving his primary education at Maliyadeva College. What was supposed to have been a visit to Colombo to see the tram cars with his father ended up getting little Edwin an admission to Ananda College which is where he pursued his secondary and higher education and lives to this day with the label of the Oldest Anandian alive.
Edwin recalls his involvement in athletics during his days at Ananda College. He was part of the 4 x 100 relay team that brought Ananda College the win for the Jefferson's cup championship. He was captain of the tennis team and a prominent orator. All in all, he was a popular student, a favourite among teachers. When Edwin was asked to share a memorable moment from school, he related a time when the Ananda College premises were mortgaged to an Indian company.
"I was secretary of the Anandian Old Boys Association at the time our school was being mortgaged. In order to save our school, a large amount of money had to be raised urgently. Fund raisers were being considered. But I suggested holding a carnival would prove more successful. And so we organized and held the carnival for a week and we were able to successfully raise enough money to save our school," said Edwin, glowing with pride at the thought of the carnival being his idea.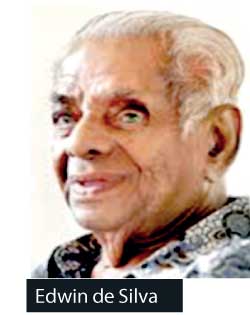 It was at Ananda College where he first met Nanda, the love of his life. "An event was being hosted at the Kularatna Hall which was graced by the participation of many other schools. I was to serve cake to the visiting students. Having forgotten to cut a large piece of cake into 2, I remember serving the large piece to a girl from Ananda Balika which she accepted with a smile. Years passed and I saw her again when I stumbled upon her on a visit to my friend Walter's place. She turned out to be one of his two sisters. She smiled at me when we met. It was at that moment I realised that I liked her and I felt that I wanted to live a happy life with her." From that point on, a relationship blossomed between the two of them, which eventually led to Edwin's and Nanda's marriage on 4 March, 1943.
The chief guest at the wedding ceremony was P. de S. Kularatne, the principal who had admitted Edwin to Ananda College when he was smaller. His family life had been a happy one with his wife and 2 daughters.
Edwin's career was a very intriguing and adventurous one which took him on ventures all over the world. Firstly, he served as the private secretary to the late president R. Premadasa who was a minister at the time. "I have taken Sajith Premadasa to school on several occasions. I have even taught Sinhala to Felix Dias Bandaranaike."
He had also served as a public officer in the government service in Sri Lanka working as

the public health inspector at the department of Medical and Sanitary Services under the Malaria control scheme. It wasn't always sunshine and rainbows when it came to Edwin's experiences.
Having been sent to an abattoir for a training program as P.H.I, Edwin had to witness a sight which made him make a promise to himself. To this day that promise remains unbroken. "I had to visit an abattoir during my service as a health inspector. It was a sorry sight to see all those cows getting slaughtered. There were tears in the eyes of the cows as they waited to face their inevitable fate. Ever since that day, I have resolved to only stick to vegetarian diets that I have obliged to this very day without fail. I consume fish now to maintain my health at this age."
During his period of service as Health Inspector, he was awarded with scholarships which took him to countries like England and Japan. Edwin also holds pride in the fact that he had been invited to the Queen of England's birthday tea party. How many people can say that they have had tea with the Queen? Not many in my opinion. But Edwin had always been one of the lucky ones.
"I remember how the guards at the front of the Buckingham Palace saluted and accompanied me inside as I handed over my invitation. I felt very important and grand," beamed Edwin. After his retirement from the government service, he migrated to the US where he worked as Assistant Director at St. Louis County's Health Department in the State of Missouri. Years passed and he moved back to Sri Lanka after the passing away of his wife.
Though Edwin had led a very exhilarating and eventful life in the past, he now enjoys a very simple yet active lifestyle in his old age. He reveals that 15 minute walks in the evening and a glass of barley right after the walk has sustained him throughout these years. He goes to the temple on full moon Poya days and just like anybody else he likes to read newspapers during his spare time. He visits physicians to regularly check up on his health. The ever so independent Edwin refuses to use the walking stick as he feels completely capable of walking on his own. It was during his leisure when he got inspired to write his autobiography titled "By Gone Days" where Edwin tells the story of his life, each page revealing a fascinating tale of his life. Painting is another one of his favourite pastimes. The cover of his autobiography displays another one of his hand painted masterpiece. Despite his age he likes to look and feel young.
Age is only a number, and Edwin is living proof to the statement. Edwin is wished many blissful years ahead of him, as he celebrates 101 glorious years gone by.