---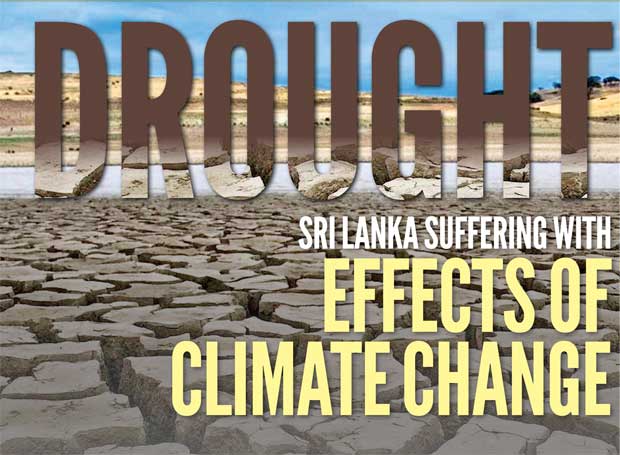 The prevailing drought has caused water scarcity, food shortages and a potential threat of spreading diseases. Despite intermittent rain showers, the public has been advised to save power, water and to prepare for consuming supplementary food. The Agriculture Department has warned about a potential food shortage following the drought as farmers are unable to carry on without expected rains. Day by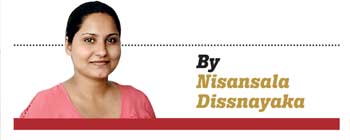 day, news on ravaged farmlands and crops are reported throughout the country. At the same time, the price of essential dry provisions including rice and coconut are reportedly increasing in price. According to the situation report issued on January 22 by the Disaster Management Centre a total number of 1,072,392 people have been affected by the drought with several districts deprived of drinking water. These include 39,824 people in Puttalam, 12,908 people in Anuradhapura, 38, 828 people in Moneragala, 2,593 people in Badulla, 302,005 people in Batticaloa and 186,199 people in Kalutara.

"Serious drinking water issue in Kalutara District"
K. Alahudeen Ansar - The Chairman of the National Water Supply and Drainage Board

"The Kalutara District has a serious drinking water issue due to salt water intrusion in Kalu Ganga. Kurunegala district, some parts of Kandy, Bandarawela and Monaragala districts are also affected. Currently we are monitoring the situation. Kelani Ganga is not affected because temporary salinity barriers are there and we are proposing to locate a permanent one in Kelani Ganga within a year. Currently we are trying to manage supplying water for the affected areas, 50 litres of water is given to a family and the quantity depends on the purpose for which the water is used. Now there are 337 water supply schemes. The Water Board is planning to rehabilitate 1000 bore-hall wells all over the island 400 new bore-hall wells are to be constructed. The public is advised not to waste water and avoid dumping garbage and waste into water bodies especially in these days."
"Large extent of cultivation areas in danger due to drought"

Saman Weerasingha - Director General of the Irrigation Department

"Due to the prevailing drought, 30,000 acres of cultivation areas are in danger. By now the major reservoirs, Kanthale oya and Kirama oya are short of water. The government is taking action to provide clean drinking water to the affected areas yet the public is warned to use minimum water and electricity. No rains are expected till October and November, till the North east monsoon."
Further commenting on the situation he said; This is not the first time we are facing this kind of a drought. There has been a severe drought in 1975 and minor droughts have happened even in 2014. These are obvious results of the climatic change and global warming. Global warming started in 1975 and now it is gearing up. Natural disasters are going in extremes due to the climate change and sea level rising, huge thunder showers and severe droughts are examples for extremes."
"Over 645,000 people affected by drought"
Pradeep Kodippili - The Media Spokesperson of the Disaster Management Centre
"More than 13 districts have been affected by the drought and over 645,000 people have faced the prevailing drought. The Disaster Management Centre and all the institutions under the Ministry of Disaster Management have taken steps to supply relief to the people, in the prevailing weather and in near future.
"Nearly 120,000 people in Kalutara district have faced disturbing drinking water issues due to salinity seeping into the Kalutara area. We have arranged to transport clean drinking water to the area and we discussed the proceedings to avoid any water issue in the future. Public can call 117 in emergency and we are prepared to give 24 hours service. And most importantly, we request the public to save the power, water and food in this disaster situation."
All the responsible government institutions have made a special request from the public to limit consumption and save electricity and water during this crisis the country is undergoing.

"Home garden is the only place that can survive in this drought"
The Director General of the Agricultural Department, Dr. Rohan Wijekoon commented on the ongoing drought and subsequent food shortage.
"This year is considered a dangerous year due to the climate change. As we still have the harvest of "Yala" season, a sufficient rice stock exists until June this year. We should face a food shortage only afterwards, because of the ongoing drought. The public has to adapt to drought resistant food that are abundant in the environment, consuming fruits, green leaves as "Japan batu, Jak fruit leaves, Croton leaves, Koppa leaves and non vegetables and home grown food on a large scale."
He pointed out the importance of home grown food, saying: "A garden is the only place that can survive in this drought because people can look after it easily. Especially fruits are abundant in this period as trees think they are dying of drought and make lots of fruit. Therefore the shortage concerns only rice and other cultivated corps. we are encouraging the public to eat supplementaries as fruits and green leaves that can be found in the garden. We request people not to eat "Polos" because if that was avoided, people can consume Jack fruit as a fulfilling, delicious and highly nutritious food. We have to use our traditional knowledge and agricultural practices to survive a hard period like this. Along with that, we should be using nearly 1,50,000 acres of unemployed paddy to produce rice in the wet zone which could be used as a cushion area to minimise the harm from the drought. Even in the past, the wet zone had been used to compensate for this kind of periods. Most of the unused paddy's are in Southern and Western provinces.
Further commenting on the steps to be taken facing the food shortage, the director noted that they have introduced new drought resistant rice variations like BG 250 and BG 251 that can be harvested within a short period. The anticipated food shortage is expected only after the end of June.

"No power cuts"
Ceylon Electricity Board - Director General Anura Wijepala
"Though the water levels have decreased in major reservoirs yet there will be no power cuts and we are calling for bidding to take appropriate action in buying power."
"Country's power planning doesn't happen on the advice of professionals"
Ceylon Electricity Board - President of Engineers' Forum - Athula Wanniarachchi
"The emergency power of 60% is to be taken from the private sector and 300 MW power supply expected in 2019 is also from private sector. In addition to this, all are just financial deals. Those proposals are taken by business tycoons and politicians. Country's power planning doesn't happen on the advice of professionals. The CEB engineers had plans for power, but the responsible people didn't listen to us. If the country had the Sampur coal power plant by now, we wouldn't be facing this crisis. To obtain power in a crisis such as this, costs are very high and we had warned of this earlier. Government is listening to several NGO's whose sole purpose is to earn money. Now the expected power percentage has been offered for bidding and the lowest bidder will be the winner."
"Govt. requests A/Cs to be at 26 to save power"
In a recent media release, Minister Ranjith Siyambalapititya had said the government is trying to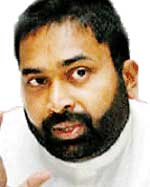 generate power using additional sources and the cost is not expected to be charged from the public. The government requests the public to save power by limiting unnecessary power consumptions by maintaining A/C s at 26 degrees.
The Meteorological Department recently predicted that the current dry weather in Sri Lanka could change after January 20 as few rains are expected. The president has appointed a Special Task Force calling from five ministries and tri-forces with district secretaries and divisional secretaries to act according to this emergency drought situation. And on Jan. 18th the president appointed another committee with three secretaries representing CEB, Mahaweli Development and the Water Board.
Considerable amount of rain was expected last week in Northern and Eastern provinces and it could spread along the country till today (Tuesday). The rain would be a relief to the drought in some extent, but it cannot fill the gap of one year with just two days of rain
Anusha Warnasuriya - Deputy Director in Department of Meteorology