---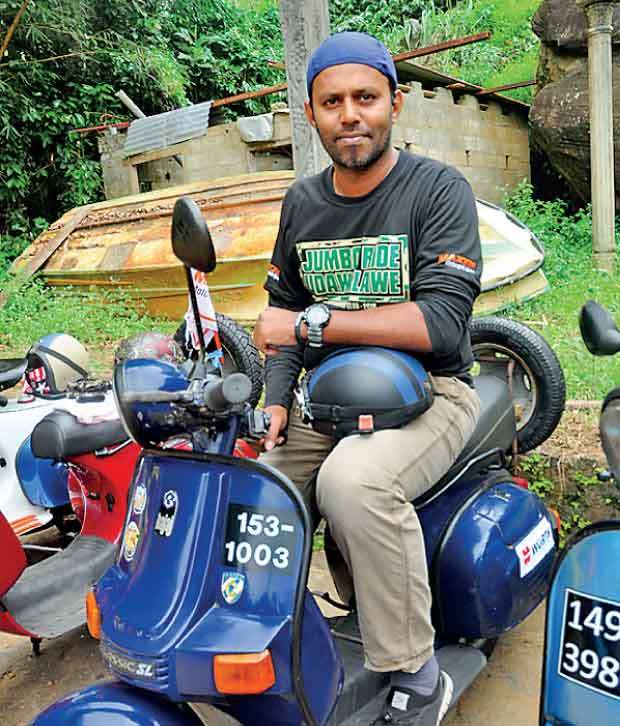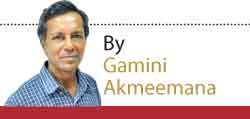 Imagine forty scooters racing up the hairpin bends of Kalawana and villagers staring in varying stages of wonder at this unusual multi-coloured motoring phenomenon. They'd been at it since the early hours of Saturday, gathering for the Ceylon Scooter Club's annual outing – this time titled the 'Sevanagala Jumbo Safari' because the destination is close to the elephant sanctuary of Udawalawe.
The Ceylon Scooter Club (CSC) started with four members and now has a large membership and a very efficient set of young organisers. Though the event started two hours behind schedule – at eight a.m., the journey was memorable due to the untiring efforts of the organisers.
The CSC employed several teams to manage the event, to direct traffic, and attend to breakdowns. Four members carried walkie-talkies in case mobile phones became useless along some stretches due to lack of signals. The leading team comprised Dhanuka Nalinda and Tharuka Dabarera who had reconnoitered the
route earlier.
A separate video team (Sanka Ruwan Wickremasinghe, Tanuj Wickremasuriya and Charith Paranawithana) accompanied the riders, video filming the trip using a drone. Back up vehicles carried first aid, spare parts, the luggage of some of the participants and family members. Without such attention to detail, this kind of trip could end in total chaos. Kasun and Chamari, the husband-and-wife team behind the You Tube channel 'Travel With Wife,' rode with us on a scooter, filming the event.
Bajaj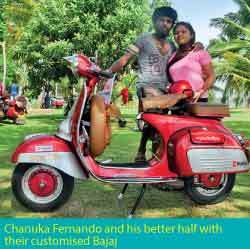 The youngest of these classic scooters date from the 1990s. The majority were Bajajs. The oldest was an orange 1952 Vespa in exemplary condition. But all these machines are ridden hard, and minor repairs are essential along the way. The club's own mechanic, L. R. S. Nishantha, accompanied the riders; but quite a few of them are competent mechanics themselves, capable of doing anything from repairing brakes or a carburetor to dismantling and repairing an engine.
The members come from all walks of life. There are company executives, businessmen, one architectural designer, mechanics and blue collar workers. I am easily the oldest rider out of the lot; most of them look half my age or less.
My blue Vespa, usually a trouble-free machine, suffered a few hiccups this time – the silencer became noisy due to a loose pipe, and the gear cable broke as we climbed the steep hills of Rakwana. But help was at hand within minutes. There were many helping hands for the silencer – firstly by two fellow riders, Asantha and Prasad, and finally by our pathfinder Dhanuka Nalinda, helped by Mithun who was carrying his bongo drum tied to the back of his scooter!
Though the allotted time for each breakdown was15 minutes, more time was spent as everyone stopped by the stalled rider for a chat. This sets a pattern – leisurely stops for regrouping, or photos, and then speedy stretches as if to make up for the lost time. Though careful instructions were given at the start about road discipline, all caution seemed to be thrown to the wind as riders started moving.
Though the allotted time for each breakdown was15 minutes, more time was spent as everyone stopped by the stalled rider for a chat
Leading the way were the 'Kodukarayo' group with their elaborate long hair, beards and flamboyantly decorated scooters. If ever there was a misnomer, this is it: 'Kodukarayo' means 'beginners,' but these people ride like daredevils. Overtaking at breakneck speed, standing up while riding fast, and a devil-may-care attitude and scorn for all other traffic is typical of them (CSC members have formed their own sub-groups, such as 'Kodukarayo' and 'Vandanakarayo'. We were to meet some of the latter, returning from their own trip, during the final evening).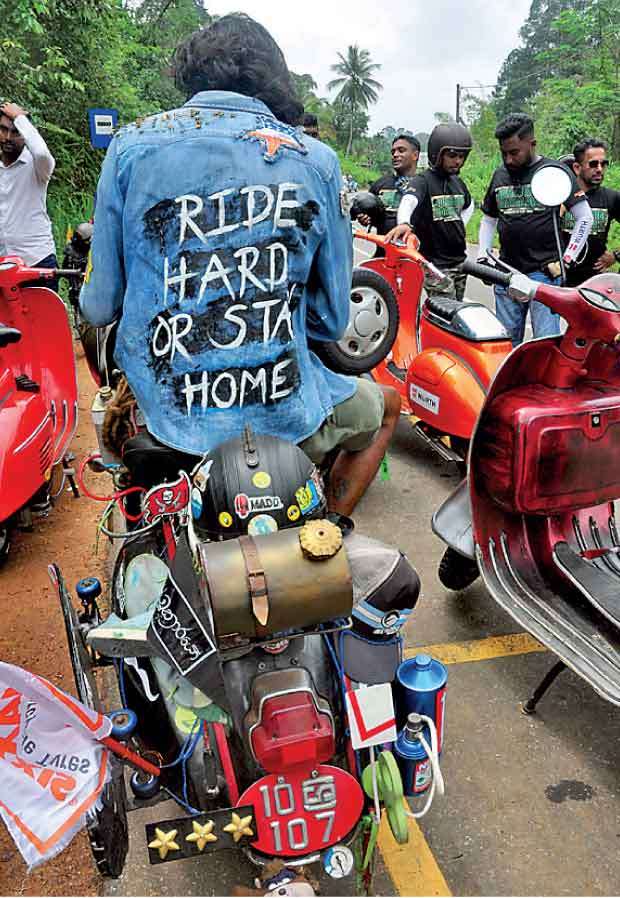 Joys and terrors of riding
The road surfaces ranged from good macadam to moonscapes. After having breakfast at Ingiriya, we passed some lovely scenery along Dumbara Road. By 11.30, we were clear of the bad stretch and moving past Ayagama to Kalawana, where we stopped for fuel. Starting again at 2 pm., we entered a land where it was misty, dreamy and another world, a sharp climb and equally sharp descent, often at what seemed to me like breakneck speed. My gear cable snapped while climbing, but help came immediately and Nishantha replaced it quickly.
Lunch was late and before you knew it, it was dark and my headlight wasn't working. I tagged behind one of our 'guides' and focused on his tail light as I was completely blinded by the oncoming traffic. We arrived at our destination, the camping site at Sevenagala, at eight pm; which was not too bad, considering the late start and all the stops. It was windy and peaceful and too dark to see the Kiriibbanweva Lake. As you wandered around, the talk was about scooters, near misses and the joys and terrors of riding. The peace was pierced by a cacophonic DJ, but the mood was now for relaxation and revelry. Dinner was late (around midnight) but for those who drink, the night got off to a splendid start.
Uninformed about the late dinner, I thought there was none and settled for the barbecue, helping myself to a couple of tank fish looking big in their silver wrappings. The man in charge gave me a mean look as I walked away, as if he'd have liked to skewer me and roll me over the charcoal. The soft-boiled fish melted in my mouth. It didn't fill me up, but put me in a pleasant, somnambulant state where I could retire into my tent and drift off amidst the din, a bevy of colourful scooters roaring around in my head.
Morning next day was heavenly. The breeze blew strong across the lake to where we were. There were two kayaks and lifejackets available for those in the mood. I crossed the lake on one with a friend. After that, it was blissful to read a book after bathing in the lake as lunch and departure
time approached.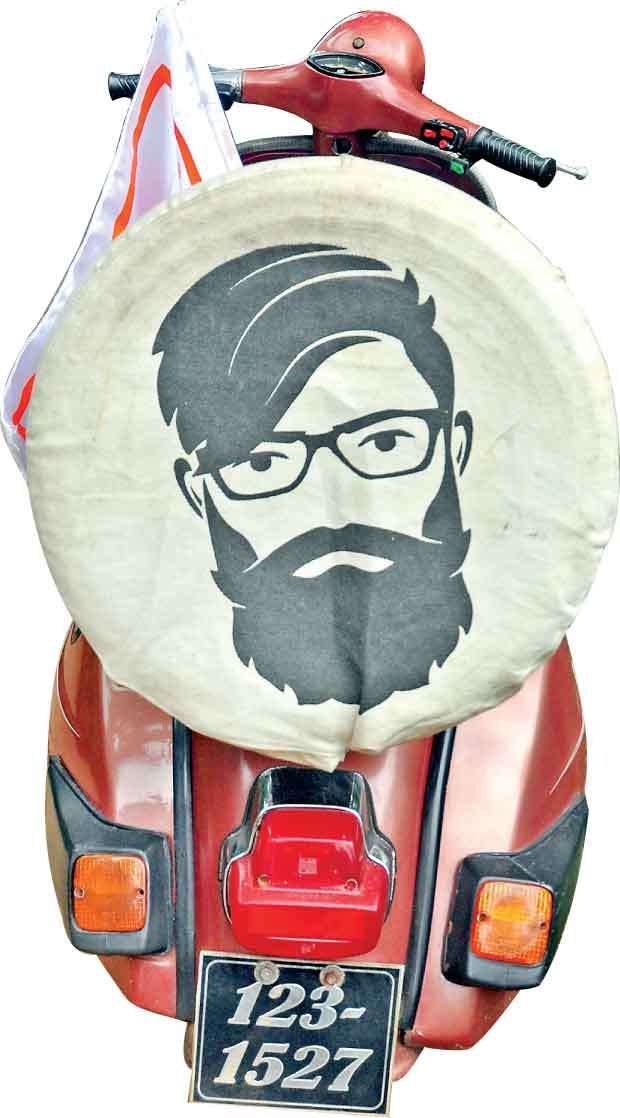 Committee
Some journeys you want to remember, some you want to forget. This one was unforgettable. A word of thanks here for the 10 member CSC's organising committee which comprised Kelum Chandrashan, Janithra, Arjun Rupasinghe and Amal Rajapakse, who worked tirelessly before and during the event to make it a success. Never have I seen such dedication, motivation and togetherness in a Sri Lankan enterprise with entirely non-profit aims.
The return journey was shorter, avoiding the hills, via Ratnapura and the High Level Road. After dark, the six volts lighting was helpful (someone having fixed my headlight that morning) only when there wasn't any oncoming traffic. The serpentine stretches through rubber forests after Ratnapura remained hallucinatory in my memory. A long row of scooters, outlined eerily against the shadowy landscape, gliding through the night, turning and banking in unison with their glowing tail lights.
Close to Colombo, the group split up to go their own ways. I had company all the way home. A final wave, a handshake, and a promise to meet at the next round.