---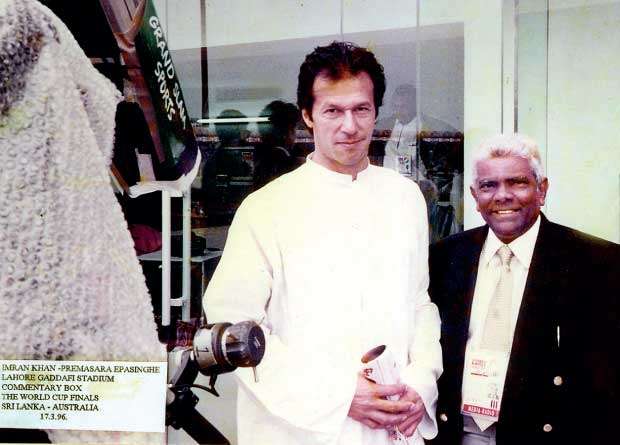 Once, I was interviewed by a popular Television Channel in Sri Lanka in a morning show. The young presenter asked me this question.
"You are an International Cricket Commentator for nearly five decades. Who is your best all-rounder and your idol in the game of cricket and why?"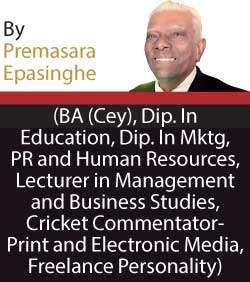 I replied "Imran Khan". He is a charming gentleman and an all-rounder par excellence. He is a fearless and a committed complete cricketer, great fighter who always put the country before self.
Today, Imran Khan, a man of honesty and integrity, is the Prime Minister and leader of the Islamic Republic of Pakistan. Pakistan is divided into four provinces geographically - Baluchistan, North-West Frontier Province, Punjab and Sindh. Its area is 796,000 sq km or 307,304 sq. miles and the main ethnic groups consist of Punjabi (60%) and Sindh (12%). Punjabi is their official language and Sindhi is also spoken in the country. As far as religions are concerned, the majority are Sunni Muslims. There are also Shia Muslims.
Pakistan does not have summers and cold winters. Rainfall is sparse, except in the monsoon season from June to October. Forests snow on mountain slopes, but most of Pakistan is covered by dry grass land.
The blue-blooded Imran Khan, was born on November 25, 1952 in the Garden City of Pakistan Lahore. It boasts of a very proud history during the Moghul Era.
Imran Khan a man who belongs to a sterling stock, made his test debut for Pakistan in 1971. He played for Worcestershire (1975-1977) and Sussex (1978-1979). He captained Pakistan from 1982-1992. One of his greatest achievements in the playing field of cricket was annexing the "Plum of Cricket" – the World Cup in 1992.
Undoubtedly, the charming all-rounder Imran Khan was one of the most brilliant cricket captains that I have seen. As an all-rounder, Imran Khan has captured 325 wickets. A handsome and ticking dynamo in 1977 January, he took 12 wickets in Sydney. I class this as one of his best pieces of sustained swing bowling. This "Prince of Cricket" Imran's finest hour indeed was in 1992, winning the World Cup.
Imran Khan hung his cricket shoes when he was forty, after scoring 3,807 runs at 37.69 in 88 Tests - 100x6 –136 historic score – 362 wickets – 22.81 average. He captured 5 wickets in an innings 23 times and 10 wickets in a Test six times (best 8 for 58) and held 28 catches.
Imran Khan was among the four elite all-rounders. Others were Ian Botham, Kapil Dev and Richard Hadlee. They have achieved the Test Double of 3000 runs and
300 wickets.
Imran Khan was among the four elite all-rounders. Others were Ian Botham, Kapil Dev and Richard Hadlee.
His one-day international figures were also very impressive – 3709 runs at 33.41 and 182 scalps at 26.6, best being 6 for 14, in 175 matches. Undoubtedly, great Imran Khan was an adornment to cricket.
In my opinion "Three–in–ones" all-rounder in the modern era were Miller, Benard (Australia), Botham (England), Mawakad, Kapil Dev (India) Sobers (West Indies), Jacques Kallis (South Africa), Daniel Vittori (New Zealand), Imran Khan and Chaminda Vaas (2815 runs – 331 wickets).
I had the big fortune of meeting the legend Imran Khan thrice. I met him for the first time when he toured Sri Lanka in the 1970's – 1980's. The second occasion was in Sharjah. I still remember the good Samaritan Imran told me that he is planning to construct a Cancer Hospital in memory of his beloved mother. I mentioned his social service venture and mentioned it in my Sharjah Commentaries.
The third occasion was in 1996 when he walked into the Sri Lanka commentary box and thanked me once again for the publicity I gave with regard to the construction of the Cancer Hospital.
Imran Khan represented the prestigious University of Oxford from 1973 – 1975. He captained the Oxbridge side and blasted the Indian attack with a blistering 160 and 49.
He was among the recent four great all–rounders Ian Botham, Kapil Dev, Richard Hadlee to achieve the Test Double of 3000 runs and 300 wickets.
His ODI figures were equally impressive - 3709 runs at an average of 33.41 and 182 wickets at 26.71 in 175 matches.
Undoubtedly, Imran Khan's greatest achievements in the field of cricket was winning the 1992 World Cup, on March 25, 1992 in the presence of 90,000 spectators at the panoramic Melbourne Cricket Grounds (MCG). Pakistan had a disastrous start losing four matches out of five. But, the 'never say die' Imran Khan, the gutty fighter, led his team to victory later by scoring five wins. In the finals Imran Khan top scored with 72. He had a partnership of 139 with Javed Miandad.
A man of honesty and integrity, great Pakistan cricket was an adornment to cricket. He will be an added beauty to his beloved country as Prime Minister and will guide the destinies of Pakistan.
The color green, the crescent moon and the five-pointed star are all traditional symbols of Islam. The white stripe represents the other religions in Pakistan. The new Prime Minister Imran Khan will keep this flag flying high.
Wish you good luck Prime Minister Imran Khan. May you go from strength to strength!