---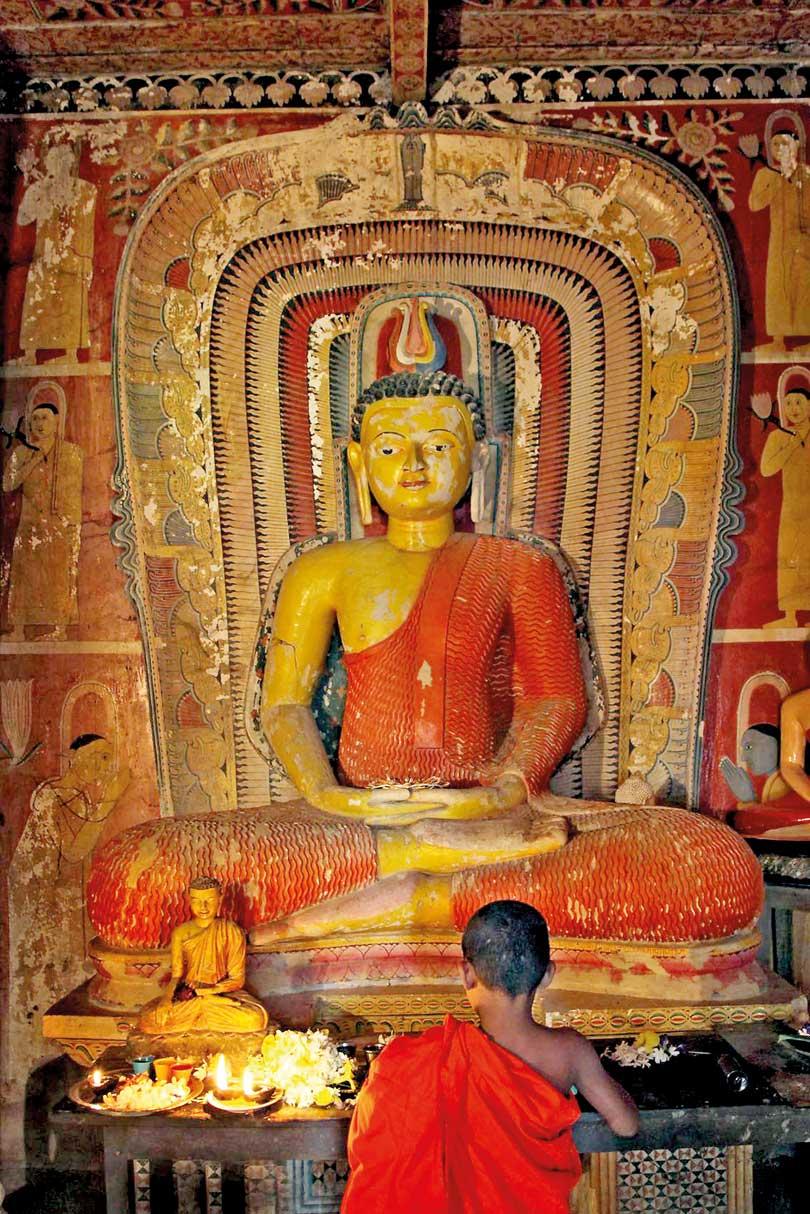 Despite being a predominantly Buddhist country, Sri Lanka has witnessed monks being attacked, massacred and faced with injustice in various circumstances. When a video clip showing two Samanera (novice) Monks – aged 11 and 14 – being attacked by a layman went viral on social media last week, signs of a fearless, uncivilized society surfaced. It is only a child who knows his or her likes and dislikes. When they are already being deprived of materialistic possessions, it is humane to give them freedom to eat what they like. They don't get to play like others of their age, see their parents as often, go to school and enjoy an ordinary lay life. So when they are up to some mischief, is it fair to beat them in an inhumane manner?
The incident
The shocking incident took place at Sri Swarnathilakaramaya in Horowpothana. According to the police, the two novice monks were given Rs.100 to purchase whatever they liked from a nearby shop. One of them had bought a chocolate and a drink while the other had hidden an additional beverage. What transpired was the shopkeeper, Chaminda Galaboda also known as Utiya, beating the monks as he thought they robbed his shop. The video shows a person trying to stop him from beating the monks while another kept filming the entire incident without taking any measure to stop him. The severely injured monks were admitted to the Anuradhapura Hospital while Chaminda was taken into custody and further remanded till September 24.
---
The monks were discharged but this man should have informed us first
---
View these incidents sympathetically: Ven. Piyarathana Thera
"It was an incident that awakened the entire Buddhist community," said Ven. Welimuwapothana Piyarathana Thera, chief incumbent of the temple. "The monks were discharged but this man should have informed us first. People follow values according to their respective religions and they need to keep these in mind. If people looked at these incidents in a sympathetic way, we should be able to minimise minor fights and tense incidents in the future."
This reflects people aren't afraid to sin: Deputy Incumbent
"It is difficult to accept such an act," opined a deputy incumbent of a popular temple in Colombo who wished to remain anonymous. "If the samanera monks did something mischievous, it should have been reported to their parents first. Parents never beat their children to seek revenge. It looks like this man has been keeping this to himself for sometime because if he hit them out of sudden anger, he should have beaten them near his shop. From these behavioural patterns, we need to question whether we live in a civilized society. Buddhist values are being swept away. Even if they weren't monks, nobody hits children in that manner. This goes on to show how he must be treating his wife. It is also important to note that this incident happened in the Anuradhapura District, in an area close to Ruwanwelisaya and other sacred sites. How can such incidents unfold in such a land? This shows that people aren't afraid to commit sins. I feel that more than taking legal action, these kind of people should be put into rehabilitation."
---
Buddhist values are being swept away. Even if they weren't monks, nobody hits children in that manner
---
'Lay prelates' exercising authority in temples: Ven. Siriwimala Thera
Speaking about challenges of being a monk in the contemporary society, Ven. Gurugoda Siriwimala Thera at Halpanwila Sri Gnanodaya Maha Pirivena said there already was a debate on ordaining novice monks. "Those who are joining the Sasana have no idea about Tripitaka and there's nobody to teach them Pali or Sanskrit. As a result, there's a challenge in spreading Dhamma. The education system which has been passed down generations has slowly moved away from the Pirivena education system. Disruptive technology and social media, which are not limited to Facebook, have become a challenge. Social media has become an easy way to spread Dhamma. Today, most YouTube channels are run by Buddhist monks. They have programmes that bless parents and promote Kavibana, but they don't spread the actual message of Dhamma."
Ven. Siriwimala Thera has been vocal about various matters pertaining to Buddhism in this day and age. He pens his thoughts on his personal blog while being a poet and social activist.
"Incidents similar to that which happened in Horowpothana are a result of temples being owned by a third party. They are called 'lay prelates.' A temple will have the chief prelate as the first party, senior monks as the second and 'lay prelates' as the third. It is them who eventually take control of the temple by keeping temple keys with them. Therefore, they exercise the authority to do anything of their own accord. This is how novice monks are subjected to harassment and even sexual abuse. This attack on novice monks is a paradigm of child harassment. When a child is ordained, he has to give up his childhood but certain monks give them some freedom -- this is by considering the humane aspect. But one concern is that many temples have given the authority to lay prelates and it is adding a burden to Buddhism."
---
If there were an issue, they can report it to the police because that is every citizen's right
---
Religious leaders can't be assaulted in future: Minister Jayawickrama
In his comments, Buddha Sasana and Wayamba Development Minister Gamini Jayawickrama Perera said legal action would be taken against the accused. "In the future, no one can attack a religious leader. If there were an issue, they can report it to the police because that is every citizen's right. Other than that, they cannot harass monks. The Mahanayakes have already spoken to me on this and we are keeping a close watch."
---
Life of a novice monk
Sri Lanka is home to many Samanera Monks who have been ordained – in most instances at their parent's will. In the rural setting, most parents rather 'push' their children into ordainment due to stressors such as poverty, while a few would justify it by referring to malefic horoscopes. In whichever way, one would argue whether these children are being deprived of their childhood to satisfy their parents' wishes. Once ordained, a child has to stay away from materialistic possessions and is not even allowed to embrace the warmth of their parents. Parents can no longer address their son by their name or nickname. Apart from that, they need to train themselves to live on Dhana and consume two meals a day. They need to learn Dhamma, meditate and train themselves to give up worldly pleasures. Subsequently, they are taken for Pirith ceremonies, alms-givings and Bana sermons to train them to preach Dhamma.
In Sri Lanka, the Upasampada (higher ordination)process is rather strict and happens in different stages according to the chosen temple. The process usually begins with lay people living in monasteries as an Upasaka (lay devotee) to learn about monastic life laid down by the Buddha. If a candidate were seen as suitable, the next step is Pabbajja (novice ordination) which can take up to one or two years depending on the circumstances. This is followed by Upasampada if a candidate has demonstrated the commitment to practise sincerely and live in harmony with the community.
---