---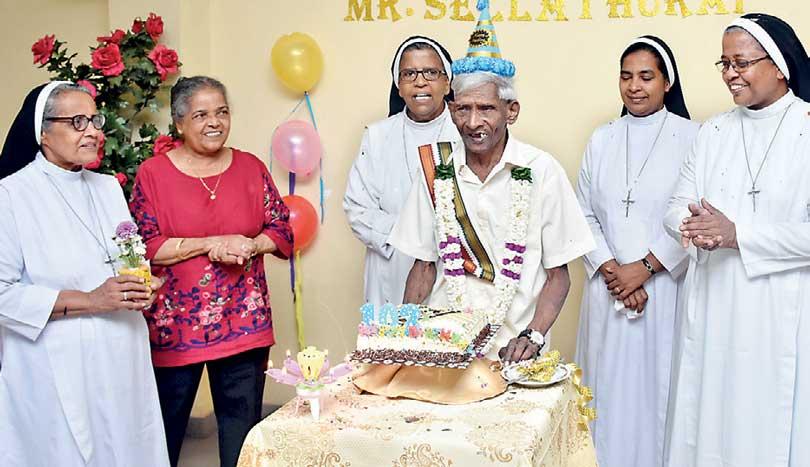 Sellathurai celebrates his 102nd birthday
Sellathurai's heartwarming story underscores the importance of having elders' homes in Sri Lanka where love and a shoulder to lean on are promised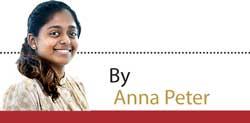 Filled with brightly coloured balloons and music playing in the background, the hall at the Home of Compassion had an air of festivity and cheerfulness about it. As the residents of the home gathered together, the man of the hour, Sellathurai, was ushered in to begin the celebration of his 102nd birthday on March 5. Wearing a party hat and surrounded by the Sisters of the home everyone joined in singing 'happy birthday'. This was followed with a breakfast of kiribath and lunumiris and lollipops for dessert. The sprightly gentleman concluded the festivities by serenading those present with his favourite Tamil song, 'Oli Mayamana'.

Sharing his feelings on his birthday celebration, he noted that it was an enjoyable experience and how he was fed so much cake that he had been unable to have breakfast. Sellathurai, who comes from Modara, Colombo, has one daughter and son. He lost his wife 10 years after their marriage. He raised his children as a single parent. His own parents helped him in educating the children. "Because my parents were Indian, we all emigrated to India. But I had to eventually leave because my passport expired," he said. Now, he no longer has any connection with his family in India. Back in Sri Lanka, he lived alone and worked at a saree shop. "When I was 99 years old, the police brought me to this home and I have lived here for three years", he said. He speaks fluent Tamil and Sinhalese and a smattering of English. Back in his youth, he used to frequent the cinema and shared that his favourite actor was Sivaji Ganesan, a famous Indian film actor. He enjoys music; singing and often entertaining both guests and those at the home with Tamil and Sinhala songs. "If I am sad, I will get sick, so I am happy. Like parents care for children, the Sisters always take care of me and are good and kind to me," said Sellathurai.
---

If I am sad, I will get sick, so I am happy. Like parents care for children, the Sisters always take care of me and are good and kind to me

Sellathurai
---

Sister Dellarose, A.C who has served in the home for around 5 years, shared her views about him. "He's a happy man. He's also very pious and goes to the church every day. He's capable of doing most things on his own," she said. K. Rajasinghe, a resident at the home, commented on his good health, noting that Sellathurai doesn't need medication while he himself is on regular medication. "He is a very routine oriented man and a man of good character," he said.

A glimpse of life at the home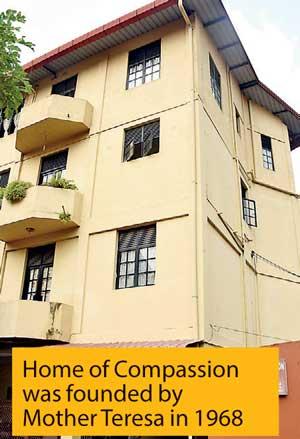 Rajasinghe, who is 76 years old, has been living at the home for a year. He spoke very fondly of his 3 children and his grandchildren. Rajasinghe is fluent in Sinhalese and Tamil and can even speak some English. He had been employed as a heavy vehicle driver for many years. However having encountered a life threatening accident that injured his legs, he decided to leave. He said that he moved to the home due to a diabetic condition that caused him to have numerous health issues. He added that his family still keeps in touch with him. "Because of my health issues, I can't engage in much physical activity. I spend my time reading the newspapers and speaking to the people at the home," he said, adding that the Sisters are like family to the people there.

82-year-old Martin, who has been living at the home for 9 months spoke enthusiastically of his love for reading. From newspapers to books, he spends a lot of his time on reading. "I like to read books and I can read in all three languages. I read books on history and religion and note down important things," he said. During the day he helps around in the home, in ways he can, by doing a little bit of sweeping and cleaning and sometimes uses the exercise machines at the home. "I'm very happy to stay in this home. We are all friends here and we help each other out," he said.

Shelter for the elderly

Located in Madampitiya, Colombo 15, the Home of Compassion was founded by Mother Teresa in 1968 as a shelter for the elderly, feeble and destitute. In 1971, she was forced to leave the country as visas weren't granted to the foreign missionaries to remain in the country. From that year on wards, upon the request of the Archbishop, the Sisters of the Apostolic Carmel took over the administration of the home. They were founded by Mother Veronica and are dedicated to the education of young girls. "Our purpose is in teaching and engaging in other works of mercy'" said Sister Dinesha A.C.

"Teaching is the most important part of our work. We have schools around the country, where our sisters are teachers and principals. We have also started an English academy in Gampaha and Jaffna for students who have completed their O/L and A/L," said Sister Dellarose A.C adding that they also run boarding houses, children's homes and hostels. The Home of Compassion, is the only one of its kind that was taken over by the Sisters of the Apostolic Carmel.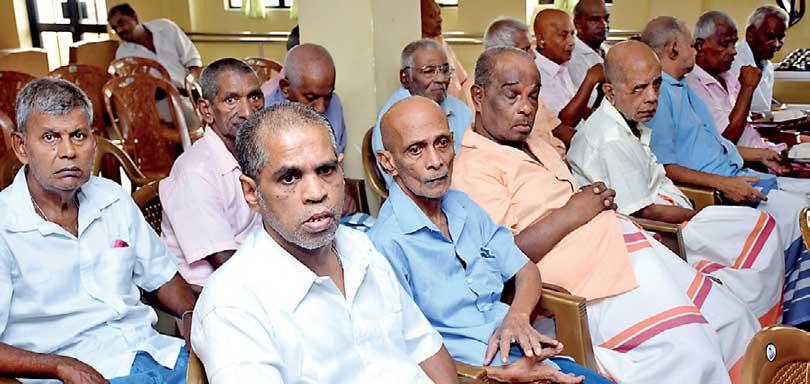 The people here come from different walks of life
Coming from multiethnic and religious backgrounds, the home has around 60 residents, both male and female. The home provides a number of facilities to those staying there, from visits to clinics to going on pilgrimages and outings. Sister in charger, Sister Anne Marie A.C revealed that they will be celebrating the home's golden jubilee next year. She spoke about how, most of the residents had children who had failed to take of care of them. "Once they are brought to the home, it's the Sisters who take care of them," she said. "We take care of all their needs; spiritual, medical, mental and physical," added Sister Dinesha A.C. "We have different people coming to the home to assist and spend time with those staying there; young people, choristers, parishioners' and even elderly people take time to visit the place. There are people who always play a visit on Valentine's Day," she said, adding that they also have a doctor who visits the home once a month to conduct medical check-ups.

The Sisters who strongly believe in divine providence, place their faith and trust in God to help them run the home. They have seen the fulfilment of this, through the generosity and kindness of people who come forward to help them, irrespective of their ethnicity and religion. "While we have a few long-term benefactors, we depend solely on charity as we have no regular income. We hope that more people would learn about this place, as we need more support," said Sister Anne Marie A.C.

The Home of Compassion is home to people who have come from different walks of life, who regardless of their ethnicity and religion, have found companionship with each other. Established with the view of creating a place of refuge for the destitute, the place has now become a home to those residing there.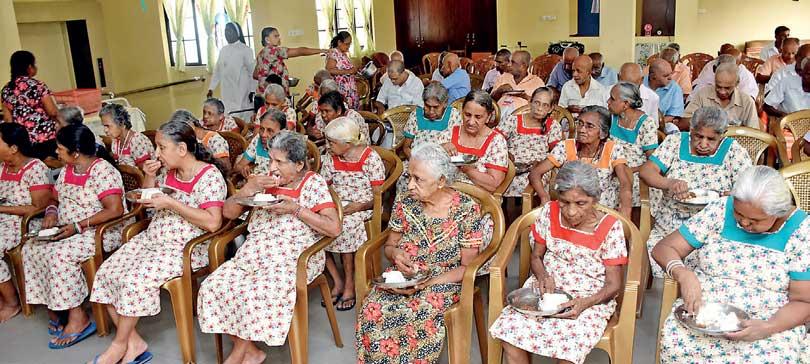 The Home of Compassion was taken over by the Sisters of the Apostolic Carmel
Pix by Kushan Pathiraja