---
The Sri Lanka Ex-Servicemen's Association with the blessings of the Commonwealth Ex-Service League and the British High Commission celebrated the 100th birthday of a WWII Veteran
On Saturday August 24 marked the 100th birthday of WWII Veteran Cyril B. Mendis a 398th gunner, from the Ceylon Garrison Artillery. He was stationed in Colombo, Galle and Trincomalee during the war and was released as a Lance Sergeant after the war.
Mr. Mendis was hosted for a celebration at the Veterans Home at Katana, by the Ex Servicemen's Association. Mr. Mendis, his wife and twenty-five family members travelled all the way from Wahakotte for the ceremony. There were eighty people in all who joined to hail this exceptional man on his achievement of this rare milestone in life, including the residents of the Home and members of the Executive Committee of the Sri Lanka Ex-Servicemen's Association, along with the office bearers, Past President Brig. K Gnanaweera, incumbent president Major General Upul Perera, The Secretary General Col. Ajith Siyambalapitiya and the Chairman of the Veterans Home Maj. Gen. Ambanpola, who took the initiative and were actively involved in organizing the event.
The Secretary General of The Royal Commonwealth Ex Servicemen's League Lt. Col. C.F. Warren and the Treasurer Col. Nigel Dransfield were kind enough to send him a congratulatory letter and a small gift through the Defense Adviser of the British High Commission in Sri Lanka, Colonel David Ashman who took the time off his busy schedule to honour one who served the commonwealth in his heyday.
We at Sri Lanka Ex Servicemen's Association are truly grateful to Lt. Col. C.F. Warren and Col. Nigel Dransfield at the Royal Commonwealth Ex-Servicemen's League and Colonel David Ashman from the British High Commission for joining us in celebrating this significant event.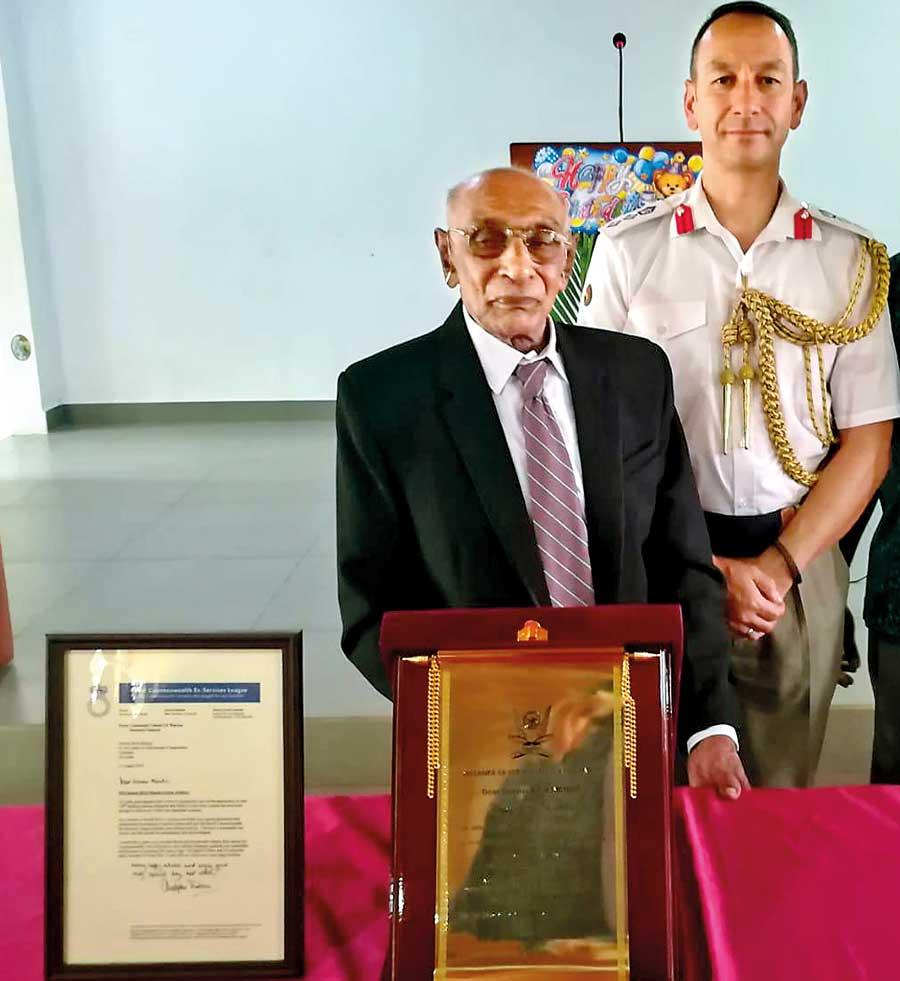 Mr. Mendis with Defense Advisor of the British High Commission for Sri Lanka Colonel David Ashman