---
The all-new Jaguar F-PACE was unveiled to the world with a spectacular gravity-defying performance on the eve of the Frankfurt Motor Show. The F-PACE showcased its dynamic performance credentials by completing the world's largest 360 degree loop and - in celebration of Jaguar's 80th anniversary- lit up the city's skyline with its dramatic C-X17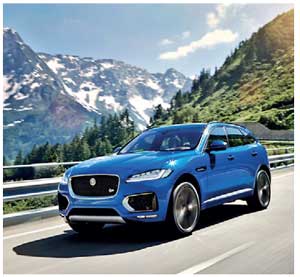 inspired silhouette.
The Jaguar F-PACE is a performance crossover designed and engineered to offer the agility, responsiveness and refinement that all Jaguars are renowned for, together with unrivalled dynamics and everyday usability.
Developed using Jaguar's Lightweight Aluminium Architecture, the all-new F-PACE delivers on the promise of the breakthrough C-X17 concept vehicle and combines purity of line, surface and proportion with F-TYPE-inspired features such as the powerful rear haunches, fender vents and distinctive tail light graphics.
Ian Callum, Director of Design, Jaguar, said, "By remaining absolutely true to our design principles the all-new F-PACE is immediately recognisable as a Jaguar. It offers all of the interior space you would expect – and more – but because of our disciplined approach to surfaces, proportions, and purity of line, we have designed what I consider to be the most balanced, most attractive vehicle in its class. The Jaguar F-PACE is the ultimate practical sports car"
Kevin Stride, Vehicle Line Director, Jaguar F-PACE, said, "The all-new F-PACE is a Jaguar that customers around the world demanded that we make. The targets we set are among the most challenging we've ever had to deliver but I'm proud to say that the all-new F-PACE meets or exceeds every one of them. This is a performance crossover with outstanding dynamics yet also delivers a smooth, quiet ride. The F-TYPE-inspired design combines dramatic looks with a spacious interior and an exceptionally large luggage compartment. Together with our all-new infotainment system, our most advanced all-wheel drive system and an outstanding range of active safety technologies, the all-new F-PACE makes every journey a better, more rewarding experience."
The all-new F-PACE also brings the world debut of Jaguar's Activity Key. A waterproof, shockproof wristband with an integrated transponder, this segment-first, wearable technology supports active lifestyles because it allows the keyfob to be securely locked inside the vehicle – invaluable if you're going surfing, for example, or kayaking. Locking the all-new F-PACE using the Activity Key will disable any keyfobs left inside.