---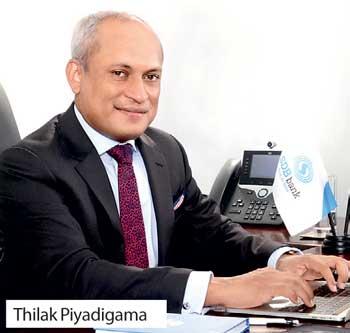 The veteran banker counting over 30 years of experience in the industry, Thilak Piyadigama takes over the reins of SDB bank as the new CEO, with effect from March 1, 2019.
He has held senior management positions in the banking and technology industries in Singapore, the UAE, UK and Sri Lanka, working for Standard Chartered Bank (SCB) and Nations Trust Bank (NTB).

Piyadigama previously served as Chief Operating Officer of NTB, possessing professional experience spanning across strategy, banking operations, digital transformation, technology,
operational risk and client service.

His tenure at NTB is known for transforming the bank to provide a seamless user experience to customers and staff by using cutting-edge technologies, frictionless processes and customer-friendly locations.

He was also instrumental in the launch of FriMi, the first digital bank in Sri Lanka and open banking APIs by NTB.

During his tenure at SCB, he was instrumental in the successful delivery of a number of important strategic projects. He spearheaded the setting up of operations in Afghanistan and Iran.
He contributed immensely for the centralization initiatives when SCB moved operations to hubs in Chennai and Kuala Lumpur. On M&A front, he was responsible for managing the key aspects of Grindlays Bank acquisition by SCB in Sri Lanka.

Piyadigama serves as a board member of the Lanka Financial Service Bureau and a Governing Council Member of the National Institute of Business Management.
He holds a Master's Degree in Business Administration and he attended management development programmes at INSEAD in France and at London Business School in the UK.