---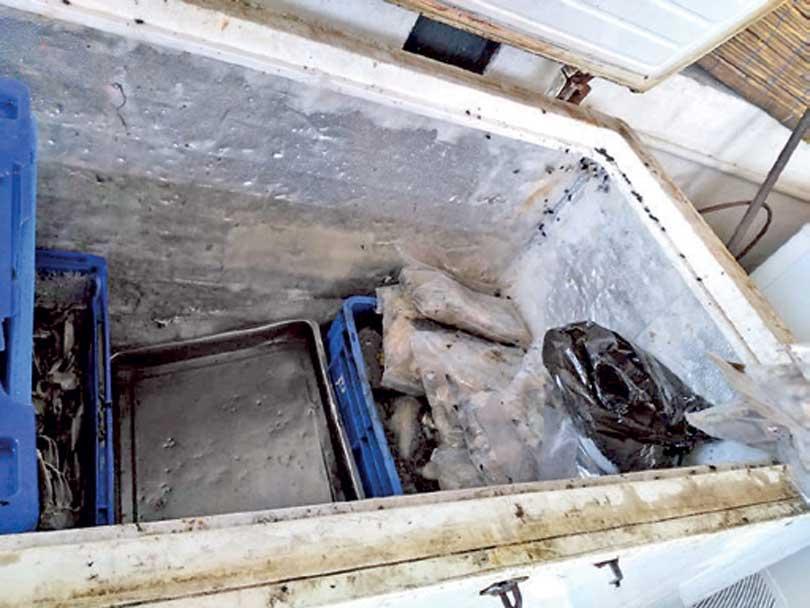 By Sarath Chinthaka

The Medical Officer of Health (MOH) Office of Wattala and the Health Department of the Wattala-Mabole Urban Council jointly conducted a food raid within the Urban Council area in which a large number of food items unsuitable for human consumption was destroyed.

Medical Officer of Health Dr Lalith P. Halambaarachchi said food items such as meat, fish, prawns, canned fish were among the expired food items seized from hotels and restaurants.
The kitchens of most of the hotels were seen maintained in an unclean and unhygienic manner with uncovered waste bins.

Some of the kitchens even had uncovered drainages running across them from which flies and other insects made their way into the kitchens infesting food items.

Another defect at kitchens was storing raw food such as meat along with ice cream and other food items. A stock of prawns which valued at about Rs.150, 000 and stored in an errant manner was destroyed by the health officials.

Meanwhile, imported food ingredients used in especially making Chinese dishes were also seized as the details of manufacturing date or importers details did not mention on the products. The health officials said legal action would be taken against the use of such ingredients.

The eatery owners were ordered to separate their food washing places from the cooking place. The owners were advised to maintain the cleanliness of the eateries. The health officials warned the eatery owners to rectify the shortcomings within two weeks and that legal action would be taken if the standard had not been upgraded.

Gampaha Community Health Specialist Dr Madhawa Gunasekara, Dr Lalilth P. Halambaarachchi, Wattala-Mabola PHI and Administrative Health Officer R.T.N.T. Kumara, Hendala PHIs Niroshan Dias, Chathura Prabhashana and Waruna Amarasekara took part in the raid.