---
Tsunami safe route falls across the bridge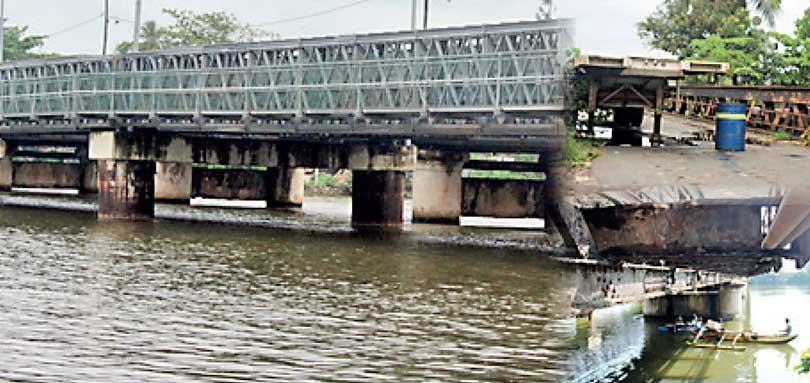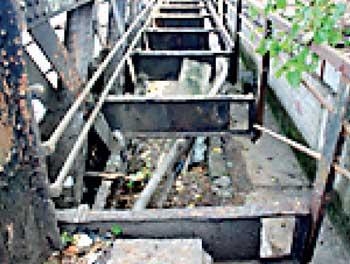 By Rekha Tharangani Fonseka
The residents of Moratuwa and others who use Digarolla Bridge to reach the Southern Province require a permanent bridge in place of the dilapidated Digarolla Bridge which seems to be never being repaired after it was closed in an arbitrary manner a few months ago.

After taking into consideration the dilapidated status of the Digarolla Bridge, the previous Government constructed a temporary bridge in place of Digarolla Bridge. The residents complained that the authorities have been informing on plans to construct a new bridge immediately.

"However, there is no result for almost seven years now," they said.

They said that residents of 11 Grama Niladhari Divisions in Moratuwa, which has been identified as the highest tsunami-prone area in the Colombo District, could only reach the land areas to save their lives by using the road that falls across the closed and temporary Digarolla Bridges.

Even after the temporary bridge was constructed, vehicles have continued along the Digarolla Bridge which has been closed now. Anura Kalansooriya, the Assistant Coordinator of the Disaster Management Unit of Colombo District was contacted over the issue.

He said that the area that lies between Moratuwa Cross Junction and Panadura New Bridge has been identified as the most tsunami-prone area in Colombo District and the tsunami safe route falls across Digarolla bridge.

He further said that Horetuduwa Gangarama Temple which has been named as a tsunami safe location can be reached by residents of six Grama Niladhari Divisions only across Digarolla bridge and the temporary bridge. He pointed out that closing of Digarolla Bridge in the tsunami-risk area could be problematic and therefore, he has informed relevant authorities about this matter where officers of the Road Development Authority and coordinating committees convened meetings.
He further said that the responsible parties should pay their attention to this issue emphasizing the critical need for a permanent bridge for Moratuwa.
Moratuwa is bounded by the river on one side and by the sea on the other side and to prevent the residents from being victims during a tsunami, constructing a permanent bridge has become more than just a need, he said.

We inquired, Mrs Gayani Mullewithana, Executive Engineer of Kalutara RDA office, she said that Digarolla Bridge was closed due to its dilapidated condition.

She said that the temporary bridge has been built considering the dilapidated status of the bridge which has a long history and that the bridge is not suitable for transportation of heavy vehicles.

She said that the iron beams of the dilapidated bridge are corroded and upon inspection, it was found that the bridge is not suitable for transportation. "After giving priority to the safety of the passengers, the bridge was closed," she said. She added that there is a plan to construct a new bridge with four lanes using the foundation of the old bridge as a JAICA project. She also said that a permanent bridge is expected to be built by next year.