---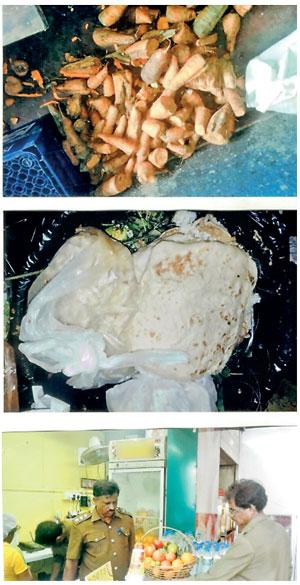 BY H.M. DHARMAPALA AND KUSAL CHAMATH
Dehiwala Municipal Health Department launched a food safety campaign in Dehiwala MOH area in response to public complaints regarding unscrupulous traders who violated food safety regulations and sanitary regulations applicable to the catering and supply of food.
Chief Medical Officer of Health (CMOH) Dr. S.M.R.Odayar organised the campaign on the instructions of Mayor Nawalage Stanley Dias. A large stock of food unfit for human consumption was destroyed and the traders concerned severely warned and red notices issued on them that they would be liable to legal action unless they improved the condition of their business establishments within a week and report to the CMOH office.
The CMOH said he ordered the raid on public complaints with regard to the insanitary state of hotels, bakeries and catering services in Dehiwala town. He said in several hotels, raw meat had been stored with other food items including ice cream and desserts.
He said a stock of used cooking oil which had not been discarded, raw potatoes and rice infested with worms and weevils, a stock of Kottu, mushroom, rotten big onion, expired cool drinks, biscuits and cooked meals unfit for human consumption were destroyed. "Food had been stored without least concern about the sanitary regulations, in rooms infested with rats, cockroaches, flies and geckoes, while the state of kitchens in several hotels was that they had not been cleaned for a long time and it was shocking to find that vegetables and herbs were washed with
water brought from the taps at toilets adjacent to the kitchen. Employees in several hotels were wearing dirty clothes and the traders concerned were warned to pay particular attention on cleanliness of their employees," Dr. Odayar said.
Head PHI Jayantha Dalukgoda, Area PHIs Wasantha Pushpakumara, W.K. Jayasinghe, carried out the raids on the instructions of CMOH Dr. Odayar.