---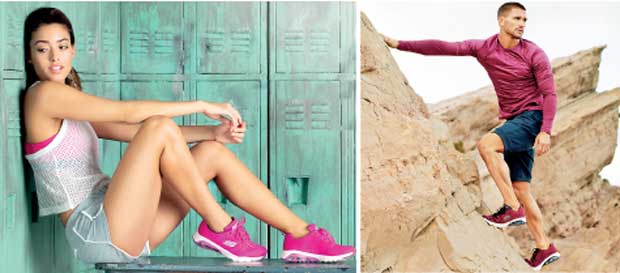 There has been a rising trend among fashionable youths in search for shoes which are not only stylish and chic but also extremely comfortable and practical.

Skechers designs and develops performance shoes for athletes, active individuals and lifestyle shoes for every age group and demographic encompassing more than three thousand styles. Over the years the company has continuously broadened their range from GoRun, GoWalk, Performance, Men's USA, Relaxed Fit and Kids to complement a wide variety of needs delivering immense diversity to the countless options available.
When it comes to choosing the right footwear, comfort is noticeably a top priority to take into account before deciding on one pair. While many shoes may look good they often compromise on comfort which can be more serious than we think. The wrong pair of shoes can result in blisters, corns and in more serious cases inflamed nerves and arthritis. The society surrounding us has taken a progressive step forward towards a healthier and active lifestyle for which Skechers footwear strike a perfect balance between comfort and style.

In addition to stability, support and comfort the shoes are lightweight and do not compromise on performance. They are carefully engineered to provide improved body posture and blood circulation. Its ingenious Memory Foam feature is found on the insole which molds onto the feet hugging the natural contours to provide a perfect fit. Simultaneously the Air Cool featurewards off perspiration in this humid climate keeping your feet fresh even after prolonged hours of wear.

Moreover, Skechers has gained widespread popularity inhelping elderly people significantly improve their balance and reduce the strain of body weight placed on theirankle joints and spine. The absence of shoe laces makes it easier for elderly people to slip their feet in and out of the shoes without bending down long enough to tie their shoe laces. Also, greater traction support provides more control and grip while walking and eliminates the risk of slippage.

For individuals who lead an active lifestyle and spend majority of their time on-the-go the Skechers GoWalk series is the perfect companion to get you through theday. Equipped with Goga pillars on the outsole and insole these shoes provide anatomically correct arch support and shock absorption. They are incredibly lightweight with effective impact absorption to elevate walking experience and reduce pressure on ankle and knee joints.

The integrated OrthoLite sockliner provides resistance to slippage making it a practical choice of footwear for elderly individuals. Directly inspired by athletes, these shoes are also great for golf enthusiast as they provide excellent fit, function and aesthetic.On the other hand, the Skechers Performance and GoRun series are specially crafted for gym use, running and athletes. They have an underfoot cushioning system that provides support, shock absorption, swift movement and paramount comfort during intense activity sessions.

Available for men and women, the Skechers Relaxed Fit is designed for more casual and everyday styles with the same level of comfort found in the GoRun and Performance ranges. The designs are classy and simple adding just the right amount of detail to spice up all casual outfits and give you a trendy look.

From busy moms, active individuals, runners, athletes, school goers to elderly people, Skechers has something for every lifestyle and occasion. Abans PLC are the sole distributors for Skechers footwear brand in Sri Lanka offering a wide range of stylish and practical shoes for different age groups and needs. Visit your nearest Skechers showroom at Racecourse, Liberty Plaza, Majestic City, Crescat or Abans Showroom Colombo 03 and find out which Skechers footwear complements your lifestyle best.