---
The SN Academy South Asia which provides professional hairdressing and beauty therapy programmes for students in Sri Lanka and India recently announced its partnership with Asia's leading professional cosmetic manufacture, and haircare specialist Bellose to award a world class hairdressing and beauty therapy diploma.
Founded by renowned Sri Lankan hairstylist and entrepreneur Nayana Karunaratne, SN Academy has been delivering beauty and hairdressing programmes for more than 30 years and has built a strong team of qualified and experienced trainers. Lectures at SN Academy lead, motivate and inspire students to ensure their success.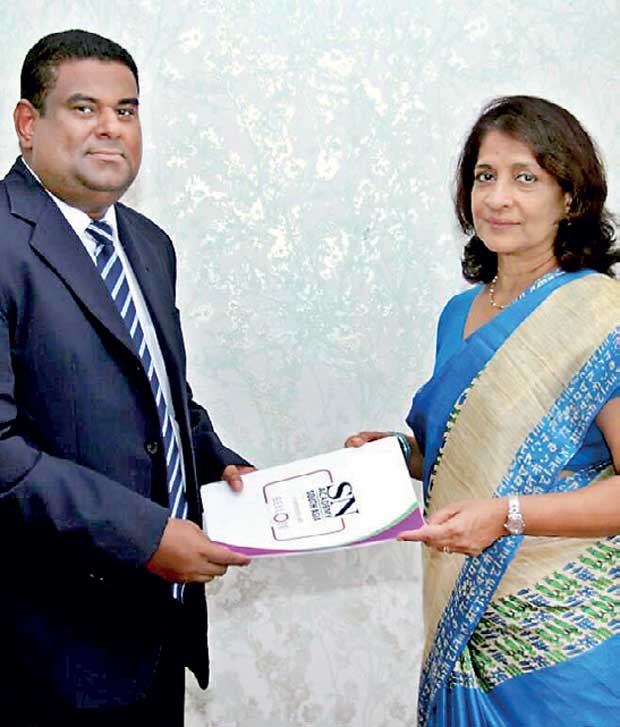 From left: Bellose Lanka (Pvt.) Ltd Director Chathura Perera and SN Academy Director Nayana Karunartne
Programmes at SN Academy have been designed to open up greater career opportunities in the fast-growing hair and beauty industry, both home and abroad and particularly to provide an ideal gateway for qualified students to live and work in countries such as Australia, Canada and the Middle East.
The Academy offers a rolling schedule and is equipped with state of the art hair and beauty facilities. Moreover, the students will have the opportunity to receive internships in the 'A' grade salons and to obtain first-hand experience on latest methods and techniques in the industry.
SN Academy also provides an ideal learning environment, comfortable air conditioned class rooms which are fully- equipped with the necessary tools and salon equipment. In addition, students will be provided with training text books and upon completion of the diploma, a final examination will be conducted in a preferred language (English , Sinhala or Tamil).
Students will also have the opportunity to partake in the international forums and select a career path as a hair stylist, beauty therapist, colourist, makeup artist, cinema and theatre creative specialist, teacher, trainer, hair and beauty consultant, salon manager, owner or franchisee.
SN Academy has trained students who are successful hair stylists and beauty therapists in the local industry as well as in many 'A' grade salons in the world.