---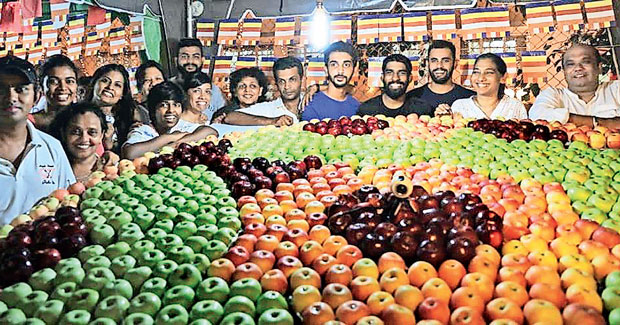 Leo Burnett Sri Lanka commemorated the UN International Vesak Day with its apple dansala at Bauddhaloka Mawatha Vesak Kalapaya for the seventh consecutive year.
This year, the dansala featured a mural of apples to celebrate this very special Vesak celebration held in Sri Lanka under the patronage of world leaders. The mural was created from the donation of apples received from 3000+ donors. Leo Burnett contributed two apples for every apple that was donated, resulting in the distribution of nearly 10,000 apples.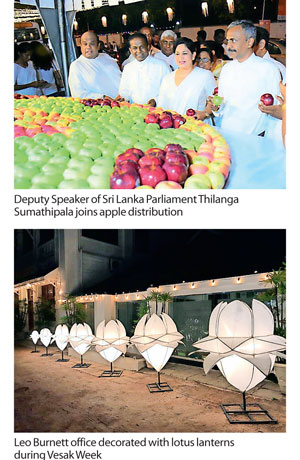 The agency's Managing Director Ranil de Silva, along with a cross-section of Burnetters representing the diversity of the agency comprising people from a cross section of religions, ethnicities and agency departments, came together to set up the mural and to distribute the apples to the community.
Numerous people representing friends of Burnetters, the agency's business partners, clients and team members contributed apples to help create this unique mural of apples. The agency's office was also decorated with traditional Vesak lanterns and the team got together on Vesak day to light lamps to celebrate this very special day.
Commenting on this year's Vesak celebrations, de Silva said, "Vesak is an important religious festival that we are proud to jointly celebrate as a team each year. I am delighted that the diversity of people represented in the team came together once again to celebrate this important festival.
This year the mural we created with apples was a unique feature in our long-standing tradition of conducting an apple dansla for the last seven years. Apples are an important symbol of the agency's history. It is how Leo Burnett welcomed visitors to his office in Chicago 80 plus years ago.
This tradition continues at every Burnett office around the world, including our office in Colombo. Although cynics mocked that it wouldn't be too long until Leo Burnett started selling apples on the street corner instead of giving them away, the agency was able to overcome the economic uncertainty of the time and grow and thrive.
We are honoured to have the opportunity to uphold the late Leo Burnett's tradition in Sri Lanka with our apple dansala which serves as a reminder of the company's early beginning."
Vesak marks the birth, enlightenment and the attaining of nibbana of the Buddha. The significance of Vesak lies in the Buddha's teachings of cessation of suffering and universal peace to all humankind.