---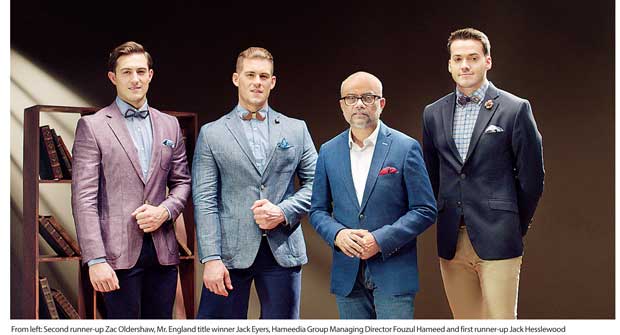 Hameedia, Sri Lanka's leading menswear specialist, recently awarded the winner of Mr. England 2017-19 - Jack Eyers - a wardrobe courtesy of its premier brand Envoy London during the course of his visit to Sri Lanka.

As Brand Ambassador of Envoy London, Eyers attended the fifth edition of Fouzul Hameed's highly-anticipated fashion showcase - Concept 2018 by Hameedias, which was attended by Colombo's fashion elite, several VIPs, leaders of the business and fashion communities and the senior management and staff from Hameedia. Envoy London is the official title partner of Mr. England.

The first and second runners-up of the international competition for Mr. England 2017-19, Jack Hesslewood and Zac Oldershaw were also present at the event. This year, the showcase featured an exclusive range of ready-to-wear and tailor-made collections for modern and stylish urban men.

Hameedia Group Managing Director Fouzul Hameed said, "We are delighted to host the winner of Mr. England 2017-19, Jack Eyers, in Sri Lanka, along with the first and second runners-up of the international competition, Jack Eyers and Zac Oldershaw. As Brand Ambassador of Envoy London, Jack Eyers has done us proud. His presence at the Concept show, a truly iconic fashion event in the country, further enhanced the evening.

It is our pleasure to gift him a stylish Envoy London wardrobe as a token of our appreciation. We are also pleased to have facilitated the travel of the three winners of Mr. England 2017-18 to Galle and other key tourist hotspots in Sri Lanka which they have enjoyed immensely. Envoy London wishes Jack Eyers all the best for his future endeavours and we look forward to seeing them back again soon in Sri Lanka."

The Miss. England pageant began in 1928 and the Mr. England arm of the competition first commenced in 1996. The competition not only recognizes the physical attributes of participants but also aims to make an impact through the 'Beauty With a Purpose' campaign, which raises funds for various charities through the competition.

Established in 1949, Hameedia has grown to become a pioneer in the Sri Lankan fashion industry. The fashion store is renowned for delivering high-quality custom tailoring under the bespoke and Made to Measure category and ready-made clothes for gentlemen. The Hameedia, multi-brand retail stores house a collection of quality menswear brands such as Le Bond, Envoy, Signature, Raymond, Lee and Adidas to name a few. Hameedia also prides itself on offering outstanding standards of service to ensure that all clients enjoy a shopping experience that is positive and personalized.

With a network of over 30 outlets across Sri Lanka and a large and experienced team, Hameedia has a strong local presence and has also extended its operations to the global fashion industry with outlets in the Maldives and Australia.