---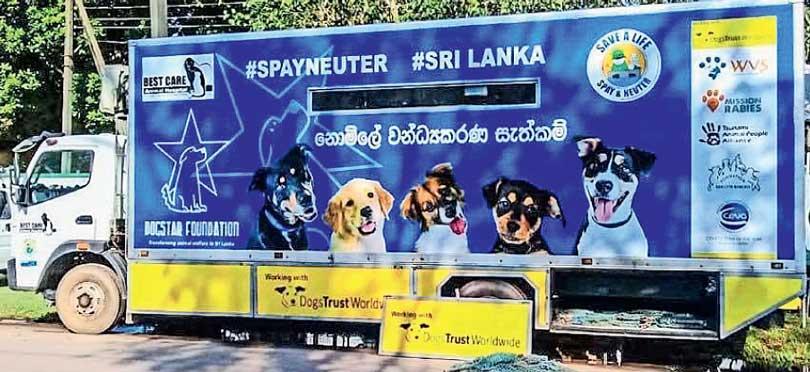 Dogstar Foundation Spay Neuter Mobile Hospital Truck in Sri Lanka

In 2005 two underground project managers from London, Samantha Green (Sam) and her husband Mark visited Sri Lanka to relieve their post-traumatic stress following a deadly terrorist attack. But the large number of stray dogs that were abandoned by the roadside and public places struck Sam, who was also a dog lover. An unexpected encounter with a flea-infested puppy at a temple, a request from the temple monk to treat Mango, another mangy dog were the first steps taken to setup Dogstar Foundation which today is the single largest spay/neutering clinic in Sri Lanka. Earlier this year, Sam was recognised for her contribution towards animal welfare and was not only shortlisted in the Queen's New Year Honours List but was awarded the British Empire Medal for her untiring efforts to rescue dogs with no hope. In a brief interview with the Daily Mirror Life, Sam reflected on the journey they have come this far, challenges faced and future aspirations.
Earlier this year, Sam was recognised for her contribution towards animal welfare and was not only shortlisted in the Queen's New Year Honours List but was awarded the British Empire Medal for her untiring efforts to rescue dogs with no hope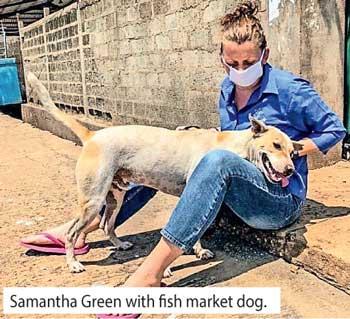 Q
Briefly tell us the story of Dogstar Foundation and how you feel about it today..
I visited Sri Lanka back in 2005 and I loved the country, food and its culture. But what really struck me was the number of stray dogs that were on the streets. Back in Europe they were in Holding centres and the authorities were responsible for looking after them. I then realised that I should be doing something about them. Thereafter I met a monk who asked if I could do something about the stray dogs and that was when we treated Mango. This is how it all began. Today I'm incredibly proud about my staff for what they are doing. They are always making a difference. We sterilise around 200 dogs every month and do feeding programmes, we attend to accidents, give them treatments and do a host of other work. In 2006 I never imagined that we would grow into this mega Organisation dedicated to animal welfare. We are now having talks with other countries to see how they are interested in partnering with us.
Q
Tell us about the process – do you visit places that have stray dogs and neuter/treat them or do you bring them to the Foundation premises?
We have a mobile surgery unit which is a big truck that do mobile veterinary programmes. But initially we do a survey with our mobile App to see how many dogs are there in the area. Then we bring in the mobile veterinary team and people in the community bring their dogs and cats for checkups. We then conduct sterilisation programmes, we have teams who would capture stray dogs for checkups, sterilising and other treatments and we go from household to household as well. We then keep a count of how many dogs were sterilised and not and if required we would return. As such it is a continuous repetition of work. Subsequently we see a reduction of stray dogs and they are healthier now. There are less complains from the public and there's a better relationship between the public and stray dogs now.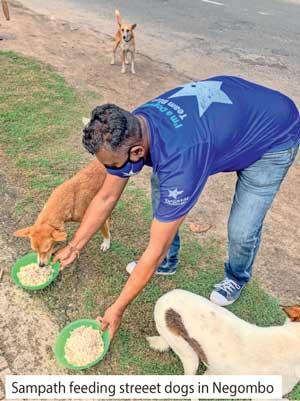 Q
Animal welfare is often challenged with people not being responsible about animals. Do you see a change in people's attitudes from when you initially started the Foundation?
Yes particularly when you have a large number of sterilised dogs, people are more calm. Now there are less puppies. But we still have a long way to go. The government should consider passing the Animal Welfare Bill because other countries have laws to protect their stray dogs. We have seen a change but a lot more work has to be done. If the communities could get together we could do more work collectively. It's also nice to see a lot of young people being passionate about the environment and animal welfare in particular. For many years there have been Sri Lankans working tirelessly to ensure the wellbeing of stray animals and there's a lot of positive change in that sense.
Q
How do you feel about making it to the Queen's Honours list and winning the Award?
I'm so humbled. I was quite shocked but it is an amazing way to end a challenging year. I'm so proud about the work and the whole team. I'm pleased to see that animal welfare is recognised in the Queen's New Year Honours list.
Q
What is the most satisfying part about your work?
Seeing healthier, sterilised dogs. People in the community bring their dogs to our clinics and they appreciate the work we do in Negombo.
People who do not want to get their dogs sterilised. We are offering them a solution but they are not ready to take it. The lack of enforceable laws is another challenge we are facing.
Q
How did COVID impact the work that you're doing?
It was very challenging because there were two lockdowns in Negombo. We couldn't do sterilisation programmes but the immediate problem was that the community dogs at the fish market and those near the hotels suddenly didn't have food. So we had to arrange curfew passes and go on feeding rounds. People didn't have money to feed dogs. But our team built a good relationship with the animals and it was easy for our vets to give them medicine. The Mayor's Office, Municipal Council and the community were very supportive during that period.
Q
How do you plan to improve services at the Foundation?
We like to expand the work we do. To improve the services to support cats because they are largely overlooked. We are planning to bring down the second gas anaesthetic machine which we use when sterilising dogs. We are looking at working with local activists to train people, provide them with resources to tackle the problem. We are also having talks with children as well so the community and they can start dealing with animal welfare in a bigger way. In fact we are looking forward to 2021 and hope it will be a better year.
Images courtesy : Richard Murgatroyd Photography-Dogs Trust Worldwide and Dogstar Foundation