---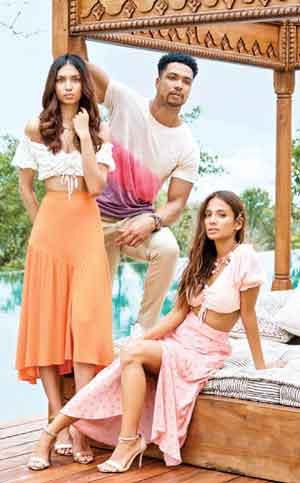 The longing for a place or a face, is something we have all experienced in the past year. Yet the tides have turned, and as life gets slowly back to normal, the ODEL Summer collection, "Wish you were here" celebrates those cherished throwbacks to good times; The love, the laughter and having it all back again. With a range of stylishly comfortable silhouettes, accessories, shoes and bags, the collection welcomes the dawn of a new year, while looking back at those wonderful days with fondness.
Inspired by all things island, ODEL's Summer collection lives up to its theme of 'Wish You Were Here'. And indeed, you most certainly will wish you were at ODEL, not just once but everyday this season as ODEL introduces a range of delightful products which are a veritable burst of island blooms and colours that will get you right into a mood of Summer fun and frolic as well as traditional Avurudu celebrations.

You can shop at ODEL with complete ease of mind, with a host of bank offers as well as special promotions, to make your Avurudu all the more festive. What's more, this season you can shop till you drop at ODEL, from 10 AM all the way to 10 PM!

"This season, vibrant blooms will come in to play across ladies', men's as well as kids' categories. The collection comprises of a stunning selection of silhouettes in joyful, celebratory hues such as red, orange as well as green which is the designated auspicious colour of Avurudu this year. Sri Lanka being the tropical paradise that it is, we have kept the fabric light and breathable with the perfect blend of cottons and linens, which are well suited to our climate" said Desiree Karunaratne, Group Director Marketing of Softlogic Group.
The overall direction for this Summer's collection is 'comfort first'. In the ladies' line up, you will see cascading shapes with layers and fluidity. Staples such as floral summer dresses, shorts, tropical co-ord sets, palazzo pants, crop tops and cover ups are making a comeback. Wide-leg trousers made for comfort, floaty dresses that could take you from an intimate festive gathering to a tropical get away far from Colombo, paper bag shorts pairable with those breezy tops with billowy sleeves or even a cute little crop top are all must- haves that will soon become your summer favourites.

For LUV Sri Lanka, the 'Blossoms of Avurudu' collection capture the essence of this festive period and portrays the beauty and magic that is created by the myriad of flowers that blossom across the island during this time with emphasis being placed on this year's Avurudu colours which are green, white and blue. Conveyed via water colours by our team of designers, everything you see has been drawn from scratch. We have given special attention to the flowers that are synonymous with the culture and traditions of Sri Lankans, namely Erabadu, Asala, Nilmanel, Saman Pitchcha , Katurolu, Kadupul, Binara and Sapu.

The Men's collection too revolves primarily around comfort, with tropical shirts, shorts, ombre- tie dye T shirts and crisp white tailored staples included in the collection. With a range of printed, casual shirts that can be paired with a casual short for a day by the pool, or a Chino from our wide collection for an evening out, the ODEL Men's collection is versatile and interchangeable, working for a whole range of different looks. Not forgetting the wildly popular tie dye tee range by WYOS and Liberation, and the beloved formal range by Davidoff and Fellini, the ODEL Men's department is fully equipped for all your festive shopping needs.

Kid's Summer collection for both boys and girls, is affectionately labelled 'Fruitloops' this season as it's a celebration of tropical fruits and their burst of vivacious colours. Boysenbear brings ever so cosy casual looks for little boys while Pinkabelle comes through with summer dresses, rompers and comfy shorts that your little princess will want to live in during these hot summer days.
What's more, this season you can shop till you drop at ODEL, from 10 AM all the way to 10 PM!