---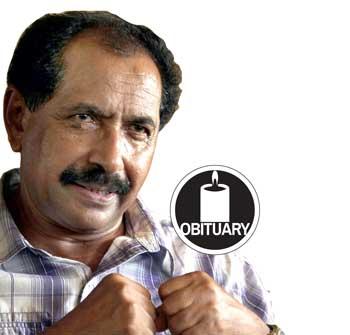 The demise of award-winning actor, eminent writer and distinguished dramatist Jayalath Manoratne marked one of the saddest days in Sri Lankan arts, which will not be able to fill the vacuum in many generations to come. The renowned, multi-faceted artiste who excelled in all mediums, passed away early yesterday morning following a brief illness at the age of 71.
Manoratne, dubbed the gentle giant of Sri Lankan arts, was born on June 12, 1948. He opened his outstanding career on stage as an actor in Sunil Sriyananda's 'Aspa Gudung' in 1966 and followed it up with hundreds of others including Prof. Ediriweera Sarachchandra's productions. In a career spanning more than five decades, his contributions to theatre in creations like Sinhabahu, Maname, Mahasara, Dunna Dunu Gamuwe, Rathu Hettakari, Naribena, Thawath Udesanak, Ahas Maliga, Tharawo Igilethi, Modara Mola, Socrates, Mayadewi, Dwithwa and others were remarkable. He also produced his own plays like Thalamala Pipila, Puthra Samagama, Andarela, Guru Tharuwa, Mayadevi, Sanda Gira, Sudu Redi Horu and others.
As a writer, he authored several books and penned the scripts for several stage plays. He acted in award-winning films and tele dramas, after having made his film debut with 'Thilaka Saha Thilaka' in 1976. He embossed his signature as a fine character actor in movies like Handaya, Siribo Ayya, Mangala Thegga, Sthree, Umayangana, Saptha Kanya, Suriya Arana, Bherunda Pakshiya, Gini Kirilli and other award winning films.

The characters he played in tele dramas like Gamperaliya (Jinadasa), Doo Daruwo (Punsiri), Hiruta Muwawen, Manik Nadiya Gala Basee, Sindu Bindu, Gajaman Puwatha, Bumu Thurunu and hundreds of others will linger in our memories forever. Having obtained his first degree from the Peradeniya University, Manoratne later earned a Master's Degree in Writership and Mass Communication from the Sri Jayawardenapura University.

Having retired from public service, Manoratne served as a university lecturer too.
text: Ramesh Uvais
Remains lie at Abeyratne Mw, Boralesgamuwa. Cremation at 5 pm Jan. 15, Boralesgamuwa General Cemetery