---
Former President Maithripala Sirisena started his 'eagle attacks' from former President Mahinda Rajapaksa when he had hoppers with President Rajapaksa and joined the UNP, UNP MP Range Bandara said referring to the ex-President's speech in Polonnaruwa in which he claimed that he attacked like eagles.
"However, he got entangled when he attempted to attack the UNP and its leader. That was his last eagle attack. He did not even think of the country but himself," he added.
MP Bandara said yesterday at a media briefing at the UNP Head Quarters, the former President had also attacked ex-DIG Nalaka de Silva preventing the arrest of the suspects who were involved the Easter Sunday attack by bringing voice recordings of Anti-Corruption Force Organisation Working Director Namal Kumara into the scene.
"Following the voice records TID's former DIG Nalaka de Silva and Indian national Mersily Thomas, were arrested by the CID in connection with an alleged plot to assassinate several VVIPs and the matter was taken up for inquiry.
"However, there are no ongoing court cases or nothing had been assigned to continue with the investigation over the voice records.
"The former President was responsible for Zaharans' attacks and I had said that earlier too. I will say it now and in future as well.
"Not only did he attack the former DIG, he attacked former IGP Pujith Jayasundera and former Defence Secretary Hemasiri Fernando just like an eagle does," Bandara said.
"He did that to show that he was not involved in any of these cases." (Chaturanga Samarawickrama)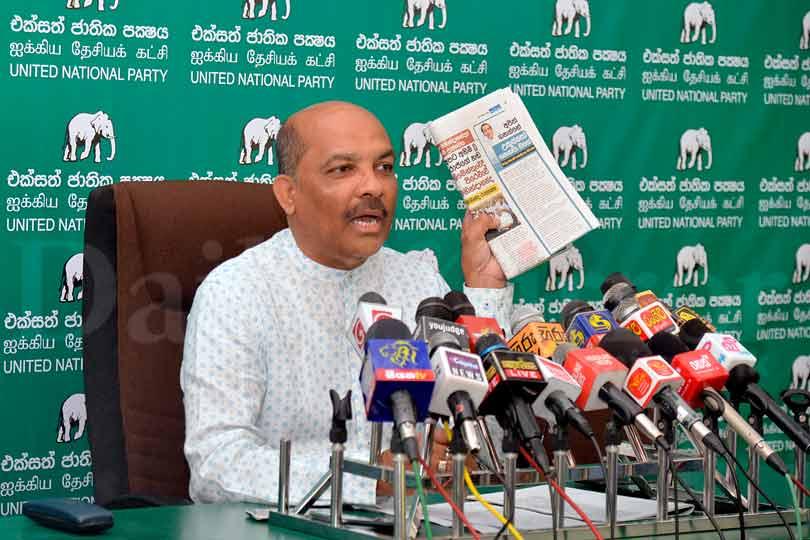 Pic by Romesh Dhanushka SIlva