---
Human hand – Trailblazer of Human Civilization – Part 21

The signs which add strength to the Mount of Upper Mars singly and in combination are the Star, Triangle, Circle, Trident, Square, and the Single Vertical Line. The Cross, Island, Cross-bars, Dot, and the Grille show defects in the health and character of the subject.

Crosses in the plain of Mars point to a volatile temper.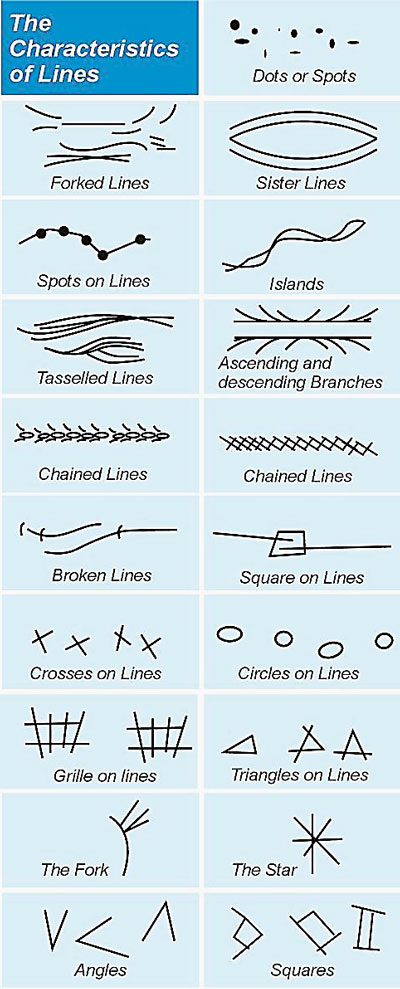 The signs on the Mount of Lower Mars should be read as lines of influence inside the Life Line.
Signs found on the Mount of Upper Mars and what they signify:
Several lines: Violent temper, lasciviousness, brutality in love, bronchitis
One line: Courage
Horizontal lines from percussion: Enemies
Crossed lines from the percussion or simply on the Mount: Bronchial troubles
A spot: A wound inflicted in a fight
A cross: Death in war
A star: An appointment to a high post in military
A square: Violent temper held in check
A circle: A very bad omen. Very often a wound in the eye
A triangle: Excellence in military tactics
A grille: Hemorrhage, danger of violent death or suicide Signs on the lower Mount of Mars What the signs signify for the Upper Mount generally hold good for the Lower Mount as well.
An ill-formed cross: Tendency to commit suicide
A star on a horizontal line: A misfortune or death
Martians or those with well-developed Upper and Lower Mounts of Mars are usually hot- tempered people. They are inclined to over-excite. They are prone to intestinal, throat and bronchial troubles, blood disorders, apoplexy, skin diseases, and inflammation of inner organs. They run the risk of getting killed in conflicts.