---
A young woman forced by a lifelong condition to have both her legs removed has amazed doctors by becoming a mother. Lizzy Georgeson, 26, suffered months of agony throughout her pregnancy to give birth to son Henry. Doctors had been worried about the extra weight pressure on her prosthetic legs, which did cause her to topple over on a number of occasions. Mrs Georgeson, who became the UK's first double amputee model, after she signed up to a modelling agency, said: 'Doctors were worried about me carrying so much more weight in front and it did affect my balance and I did have a few falls.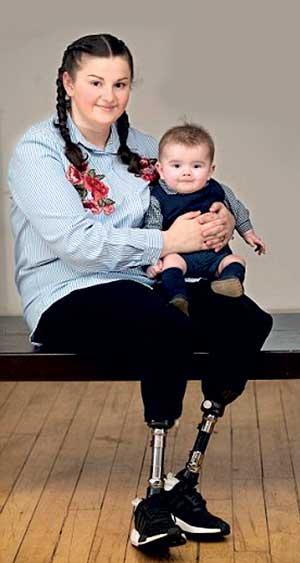 'There was so much pressure on my hips I developed a painful condition which made it difficult to walk and I spent a lot of time in a wheelchair, especially towards the end of my pregnancy.' 'But I would go through it all again to have Henry. He's an amazing baby and I feel so lucky to be a mum after everything I've been through.'

Mrs Georgeson and her husband Lewis, who live in Leeds, were thrilled when she discovered she was expecting a baby in February last year.

Henry was born by caesarean section in October at St James's Hospital in Leeds when Mrs Georgeson was 39 weeks pregnant, weighing a healthy 8lb5oz. Mrs Georgeson was born with 'club foot' - meaning both her feet were back to front. She has suffered a lifetime of chronic pain and endured 36 operations - the first when she was just ten weeks old.