---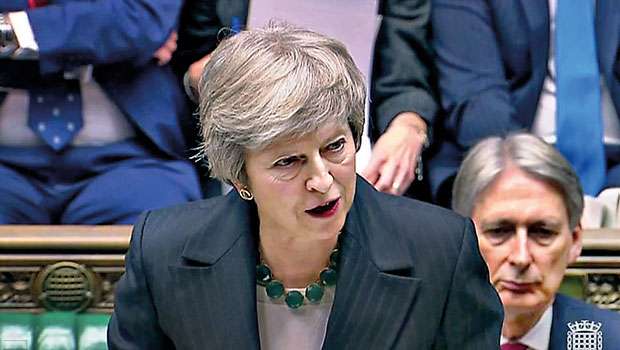 A defiant Mrs May told MPs today that she would carry on in the 'national interest
Theresa May is fighting for her political life today after Dominic Raab and Esther McVey dramatically quit accusing her of bowing to EU 'blackmail' over the Brexit deal.The Prime Minister is braced for a Tory no-confidence vote to be triggered potentially within hours after she vowed to push on with her controversial plan despite the departures of the Brexit Secretary and Work and Pensions Secretary throwing her into chaos.

Other junior ministers have also quit as the situation threatens to spiral out of control, with the Pound plunging as markets take fright at the chances of a Brexit deal receding.

In devastating exchanges in the Commons minutes after the bombshells dropped, the premier was mauled by MPs from all sides over her 'dogs dinner' package..

Tory Eurosceptic Jacob Rees-Mogg signalled an all-out assault by demanding she tell him why he should not write to the powerful Tory 1922 committee urging a no-confidence vote. Another Conservative, Mark Francois urged her to recognise the reality that her plan is 'dead on arrival'.
Meanwhile CNN reported another MP Ranil Jayawardena, Parliamentary Private Secretary Ministry of Justice had just resigned.

Despite Brexiteer and Remainer MPs from across parties lining up to condemn her plans, the PM defiantly pledged she would carry on in the 'national interest' even if the compromises involved were not 'comfortable'.

'I will bring it to Parliament and ask MPs to consider it in the national interest,' she said.

'I choose to deliver for the British people. I choose to do what is in the national interest.'

But barely any MPs spoke up for Mrs May's position - further fuelling fears of a fatal threat to her leadership.
UK, Daily Mail), 15 November 2018 -