---

The United States will send about 1,000 additional troops to the Middle East, Acting Secretary of Defence Patrick Shanahan said Monday, linking the move to last week's attacks on two oil tankers in the Gulf of Oman that the US says Iran carried out.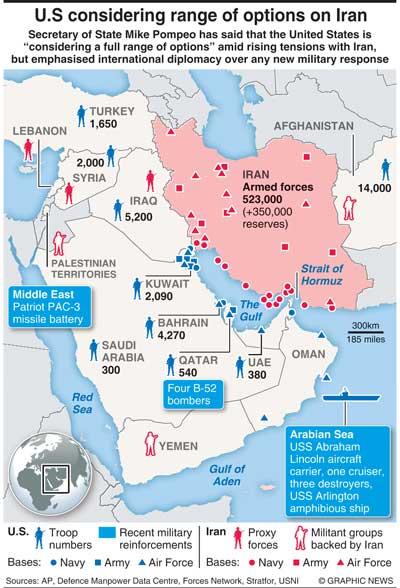 Shanahan said the additional forces are "for defensive purposes to address air, naval and ground-based threats in the Middle East." The action also will help ensure the safety of US military personnel working in the region and protect US national interests, he added.

This follows a request from the US Central Command (CENTCOM) for additional forces and "consultation with the White House," Shanahan said in a statement.

He reiterated that the US does not seek conflict with Iran, but said the US "will continue to monitor the situation diligently and make adjustments to force levels"w.
Secretary of State Mike Pompeo is scheduled to meet Tuesday in Florida with US military leaders, State Department spokeswoman Morgan Ortagus announced earlier Monday.
Ortagus said Pompeo will meet at MacDill Air Force base in Tampa with the commanders of CENTCOM and US Southern Command, who oversee US forces in the Middle East, "to discuss regional security concerns and ongoing operations."

Pompeo said Sunday the US is considering a "full range of options" in response, including military action.

Earlier Monday EU ministers warned against jumping to premature conclusions about the attacks, which have prompted concerns about the outbreak of a new Gulf war.
Washington/Luxem
bourg (dpa)