---
US (Daily Mail) 14 May 2019 - Born, Doris Mary Anne von Kappelhoff in 1922 - the onscreen legend who was to become known around the world by her stage name, Doris Day died this morning at the age of 97 in her Carmel Valley, California home.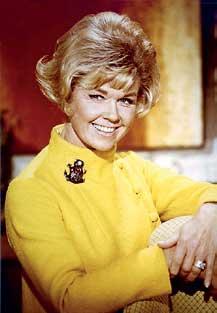 Day dedicated her twilight years to taking care of animals. Carmel Valley neighbours of her massive 11-acre estate recall the rare sighting of an eccentric woman they knew as Clara Kappelhoff shuffling through the streets while rounding up stray cats and dogs - the reclusive and shy bespectacled woman in horn-rimmed glasses was a far cry from the silver screen siren that captivated Americans as the 'ultimate girl next door.'

Day's success on the big screen did not carry over to her private life. Behind the wholesome, sunny façade was a vulnerable woman racked with insecurities and catastrophically poor judgement in men. She wrote in her book: 'My only true ambition in life was to get married and tend house and have a family.' Sadly it was
this very dream that always eluded Day.