---
Ganyliel (dpa) 21st APRIL, 2017- Every day, Maria Nyamuoka wades out up to her hips in the muddy water of the White Nile marshes, searching for water lilies to keep her family alive.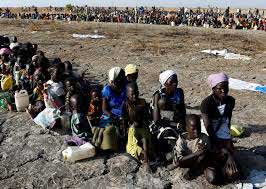 "The children always complain that they are hungry," says the 28-year-old mother of three in South Sudan's Unity State, one of the regions worst afflicted by famine. "But I have nothing to give them."
Water lilies and other scavenged leaves and roots are often all that now separates life and death for people caught up in the country's civil war, which has now raged for more than three years.

Called "yiel" in the local Nuer language, the lilies are usually dried and cooked, but parents give the children raw buds to stave off hunger pangs. Most families eat in the evenings, since children can't sleep when they have to go to bed hungry. The United Nations declared a famine in parts of Unity at the end of February - the first officially recognized famine worldwide since 2011.