---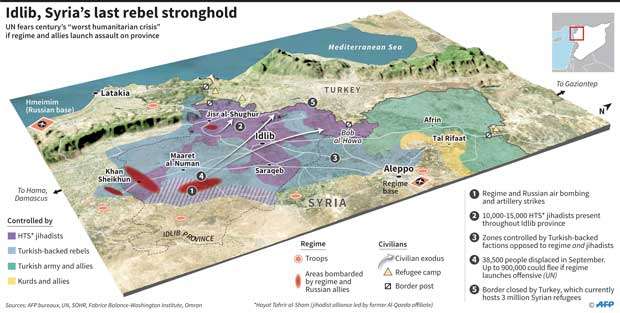 Russian President Vladimir Putin was set to meet Turkish counterpart Recep Tayyip Erdogan on Monday as international concern mounts over an expected Syrian government assault on the rebel-held province of Idlib.

The leaders of the two countries that are on opposite sides of the conflict but key global allies will discuss the situation in Idlib at Putin's residence in the Black Sea resort city of Sochi, the Kremlin said.

"The situation with Idlib is acute," Kremlin spokesman Dmitry Peskov told RIA Novosti news agency on Monday ahead of the talks.
He conceded "there are certain differences in approaches" between the leaders.

Russia-backed forces of the Syrian regime have massed around Idlib province in recent weeks, sparking fears of an imminent air and ground attack to retake the last major opposition bastion. The United Nations and non-governmental organisations have repeatedly warned that such an offensive would unleash a "bloodbath" and "humanitarian catastrophe" in Idlib, which is home to three million people.

Turkey has intensified negotiations with Russia to avert a possible attack, repeatedly calling for a ceasefire.

Erdogan and Putin met previously on September 7 in Tehran for a three-way summit with Iranian President Hassan Rouhani that saw the Russian and Turkish leaders openly disagree over how to deal with the rebel stronghold, which borders Turkey. MOSCOW AFP, Sept17, 2018