---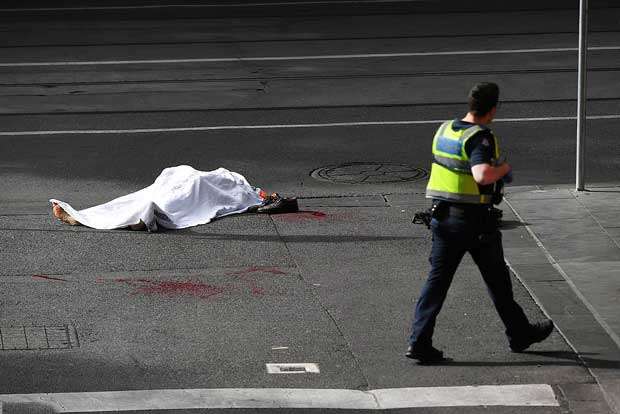 Daily MAIL, Nov9, 2018- A knife-wielding man has crashed a car on Melbourne's Bourke Street Mall then set it on fire, allegedly stabbed three shoppers, killing one, before being shot by police.

The alleged attacker was then rushed to hospital with in a critical condition, along with two bystanders who were injured. A body covered by a sheet was seen lying in the street near the car.

Witnesses said the Holden Rodeo hit a pedestrian as it mounted the kerb and burst into flames outside Target near the Swanson Street intersection about 4.20pm on Friday.

Video shot from the scene showed the frenzied attack that carried on for more than a minute, beginning with the attacker charging at two police officers and lunging at them with a knife.

He then chased the officers around a tree as they tried to avoid his blows and convince the man to surrender, and a brave bystander tried to stop the attack by running him down with a shopping trolley.

The officers then retreated to the other side of the road as the bearded attacker with a shaved head and dressed in a long brown tunic, pursued them as horrified bystanders called on police to shoot him.