---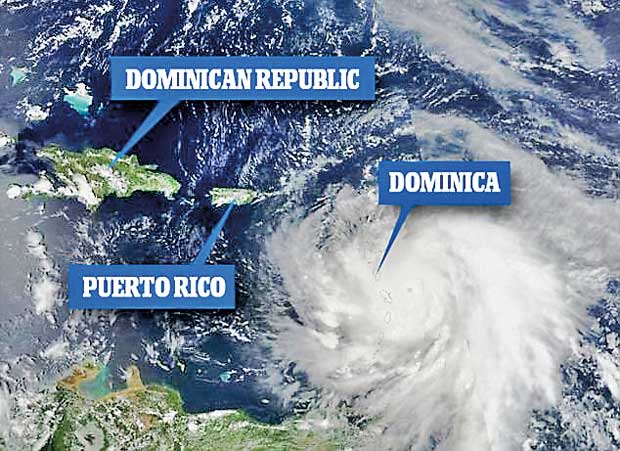 Hurricane Maria, newly intensified into a dangerous Category 5 storm, pounded the small island of Dominica as it surged into the eastern Caribbean on Monday night.

Its winds reached sustained maximum speeds of 160mph as it plowed into the tiny country - and forecasters warned it might become even stronger, the latest blow in the worst hurricane season for
seven years.

Maria is now following a similar path to Irma, with many of the islands already devastated by that storm expecting to be hit on Tuesday, with a direct strike on Puerto Rico possible on Wednesday. As it tore up Dominica, the country's prime minister, Roosevelt Skerrit, posted on Facebook: 'My roof is gone. I am at the complete mercy of the hurricane. House is flooding.' 'The winds are merciless! We shall survive by the grace of God,' Skerrit had written an hour earlier in what became a series of increasingly harrowing posts.

A few minutes later, he messaged he could hear the sound of galvanized steel roofs tearing off houses on the small rugged island.

He then wrote that he thought his home had been damaged. And three words: 'Rough! Rough! Rough!'

Finally, he posted: 'I have been rescued.' Those were the first official words from the tiny, 290-square-mile island nation after the eye wall moved ashore.

Prior to being struck, Dominica's authorities had closed schools and government offices and urged people to move from dangerous areas to shelters.

Dominica,
(Daily Mail), 19 September 2017