---
REUTERS, 14th JUNE, 2017-British Prime Minister Theresa May's Conservative party resumed talks on a deal to prop up her minority government on Wednesday as she faced a battle over her Brexit strategy just days before EU divorce talks are due to begin.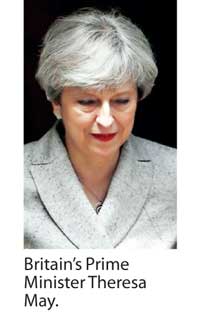 As Britain entered a sixth day of political turmoil, May's team continued talks with Northern Ireland's Democratic Unionist Party (DUP) to secure their support in parliament after May failed to win a majority in Thursday's election.

But a deadly fire at a tower block in London could delay the announcement of any deal, BBC political reporter Norman Smith said. He also said Brexit talks could possibly be delayed.