---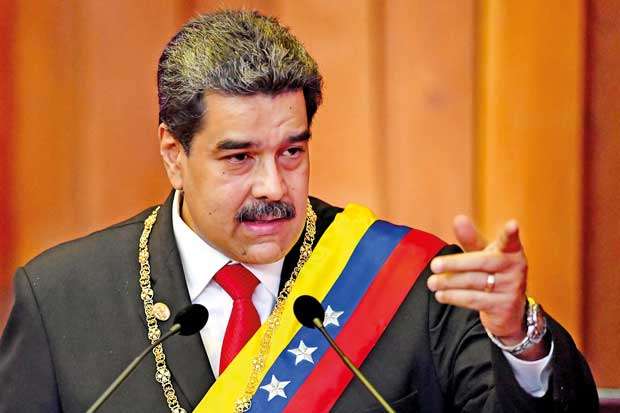 Venezuelan President Nicolas Maduro has told Russian media that he is willing to talk to the opposition in an attempt to end the political crisis that has gripped the South American country.

"I am ready to sit at the negotiation table with the opposition so that we can speak for the benefit of Venezuela, for peace and for her [Venezuela's] future," Maduro told Russian state news outlet RIA Novosti in an interview published on Wednesday.

The offer comes as Maduro's regime has stepped up the pressure on his rival Juan Guaido, with the Supreme Court on Tuesday banning him from leaving the country and ordering his bank accounts frozen.

Guaido declared himself interim president last week and has since been recognized as Venezuela's legitimate leader by several Western nations and the Organization of American States (OAS), a league of 35 countries.

Critics say Maduro's re-election last year was not legitimate and accuse him of becoming increasingly dictatorial. He has also presided over an economic disaster as annual inflation has reached nearly 2 million per cent and millions of people have fled abroad.

Maduro rejected calls for a new presidential election to be held and described Guaido's manoeuvring as "promotion of a coup d'etat, a violation of the constitution," according to the interview.

Maduro blamed the political turmoil on US President Donald Trump, who has openly supported Guaido.

"We are returning to neo-colonialism when one European capital, I mean Washington, can give orders to any country in Asia, Africa, Latin America, or the Caribbean, basically to any country," Maduro said.

"There's no doubt that Donald Trump had ordered to kill me. He told the Colombian government and the Colombian mafia to kill me," Maduro said.
The United States' "primary goal is to get Venezuelan oil since we have the biggest reserves of certified oil in the world," he said.

Trump tweeted on Wednesday about Maduro's negotiation offer.

"Maduro willing to negotiate with the opposition in Venezuela following US sanctions and the cutting off of oil revenues. Guaido is being targeted by Venezuelan Supreme Court," Trump wrote, adding that Americans should not travel to the country "until further notice."

DPA, 30th JANAURY, 2019