---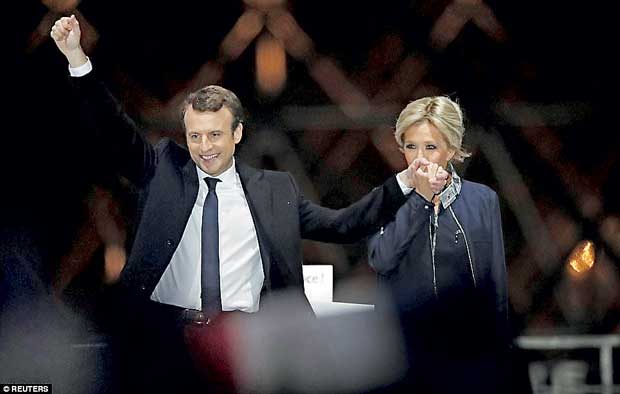 Thousands of jubilant Emmanuel Macron supporters packed the courtyard of the Louvre as they celebrated his landmark victory in the French presidential election.

Crowds waving blue, white and red tricoloure flags, danced, cheered and even kissed outside the iconic Paris museum as the overwhelming victory results were announced with Macron set to be France's youngest ever president. According to exit polls, the 39-year-old former banker, has secured a landslide win as voters are believed to have rejected Marine Le Pen's populist vision of France. Macron's victory is made all the more impressive by the fact his party En Marche! ('On the Move') has existed for slightly more than a year.Speaking for the first time since the results were announced, Macron said the election marked the dawn of a new age for France. He said: 'A new page of our history has turned.'

'I know the divisions of our nations have pushed people to extremes and I know the anger and the doubt in our country.

'It's my duty to listen to this.

'It's about organising solidarity, fighting all forms of inequality and discrimination, ensuring unity and guaranteeing the security of the nation.' Le Pen delivered her concession speech less than 15 minutes after official exit polls confirmed her devastating defeat.
(Daily Mail, Australia), 8 May 2017