---
DAILY MAIL, 17th MAY, 2017 - An Indian couple who say they were 'made for each other' have become the country's smallest bride and groom - with a combined height of just 3ft.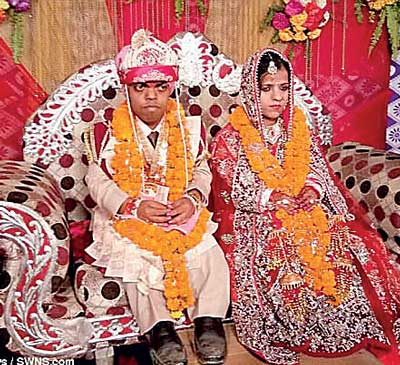 Rajesh Kumar, 34, and Shelja Kumari, 30, wed in northern India in a marriage arranged by their families.

The pair - who are both 2.5ft tall - were worried they would not find a suitable match until their families discovered they lived close to each other.

The pair married in a lavish ceremony in Una District, in Himachal Pradesh province, and believe they were a 'match made in heaven'.

Bride Shelja said: 'I am happy that I found a suitable match for myself with the help of family.'
Groom Rajesh, a government worker, added: 'Shelja has completed me and I will keep my wife very happy.

'Me and Shelja were made for each other and our match was fixed in heaven by God.'

Locals said people travelled from miles away to wish the pair well for the future.