---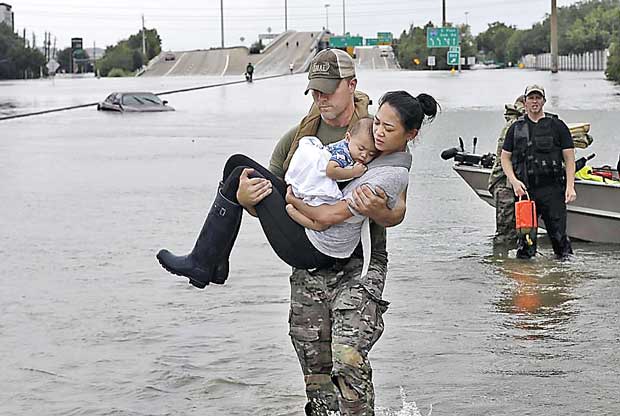 The full extent of Hurricane Harvey's aftermath started to come into chilling focus Sunday in Houston and across much of central Texas, as rain measured in feet, not inches, overwhelmed lakes, rivers and bayous, leaving several people dead and thousands displaced in a weather disaster described as "beyond anything experienced."

Across the nation's fourth-largest city and suburbs many miles away, families scrambled to get out of their fast-flooding homes. Rescuers - in many cases helping neighbours - in fishing boats, huge dump trucks and even front-end loaders battled driving rains to move people to shelter. Some used inflatable toys to ferry their families out of inundated neighbourhoods, wading through chest-deep water on foot while the region was under near-constant tornado watches.

By Sunday afternoon, the National Weather Service -was predicting that parts of Texas could receive nearly 50 inches of rain, the largest recorded total in the state's history.

It also warned that Harvey's relentless downpours were expected to continue until late in the week and that flooding could become much more severe. More than 82,000 homes were without electricity in the Houston area by Sunday night as airports shuttered and hospitals planned evacuations.

Officials said Houston, a major center for the nation's energy industry, had suffered billions of dollars in damage and would take years to fully recover.-Houston

By Kevin Sullivan, Robert Samuels, Emily Wax- Thibodeaux c) 2017, The Washington
Post · · Aug 28, 2017