---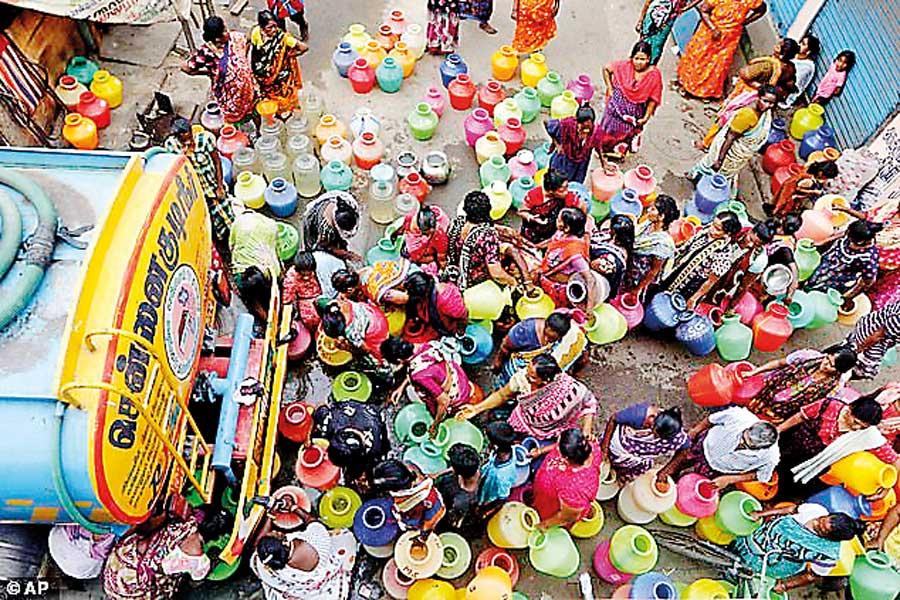 Chennai, (Daily Mail) 20 June 2019 - India's sixth largest city is almost completely out of water after a drought left lakes and reservoirs almost completely dried up.

Water in the Chembarambakkam Lake, which is around 15.5 miles (25 kilometers) from Chennai, has nearly vanished, and three other reservoirs that supply the area have also shrunk.
House and hotel taps have run dry in the southern state of Tamil Nadu due to the acute water shortage caused by drying lakes and depleted groundwater.

Millions of people are turning to water tank trucks and filling containers of water with hand pumps.

People are lining up for water cans in the state capital of Chennai, which has an estimated population of around 10 million.

State Rural Development Minister S.P. Velumani said on Wednesday that the drought followed a 62 per cent shortfall in monsoon rains last year compared to 2017.

Private tankers that provide water are inaccessible to many of those living in the slums of Chennai. Around 820,000 are thought to live in these areas and cannot afford access to the tankers, according to a report.

Only a fourth of Indian households are said to have drinking water at home, and about 200,000 people die each year due to inadequate supply or water contamination, a 2011 report stated.

Chennai is India's sixth-largest city and is a major destination for medical tourism, and Tamil Nadu state is a car manufacturing hub.